It was Friday 7:30 p.m. after a long week and I could not wait to see the performers lineup at the 2018 Spring Dance Concert. I have attended most if not all of the large dance concerts at Bates since I arrived in 2016. The broad range of performances and styles never ceases to surprise me. I often see the dance concerts as the frontline of celebrations of student achievement, along with the Mount David Summit and the Arts Crawl. The 2018 Spring Dance Concert is a great example. In this concert, dance didn't strike me as an end-point as much as it is a method for student research. All of the pieces were well grounded in the history of dance and movement as well as on contemporary discussions on culture and identity. One can see student achievement particularly in the senior theses choreographed by Sofia Elbadawi '18 and Jorge Piccole '18. These artists have come a long way in their Bates career. In their unique styles and discussions of culture on their own terms, both Piccole and Elbadawi's choreography revealed the power of critical minds using movement to create and communicate complex ideas.
The 2018 Spring Dance Concert was divided in two programs, Program A and Program B. Program A started with "El Oh Vi Ee," choreographed by Elbadawi in collaboration with dancers. The piece reflected much about social norms and personal feelings surrounding love today. The use of repetition was particularly interesting and complex during this piece in which even the saying of one letter could take on many different meanings depending on body language, movement, and intonation. It seems to me that Elbadawi perfectly balanced pedestrian movement in the piece, which was simultaneously intriguing and hilarious.
In sequence, "Shape the Groove" choreographed by Danielle Ward '20 explored movement with a nice attunement to rhythm over the song Ghostwriter by RJD2. "Tell Me Again," choreographed by Libby Wellington '20 also intrigued with three very talented dancers on stage. Helen Carr '21, Shae Gwydir '20, and Dawrin Silfa '21 conveyed a range of different moods with incredible clarity. Together, "Shape the Groove" and "Tell Me Again" interested me as formal explorations of movement. Following them, "Jezebel Dagger," choreographed by Samuel Hersh '18 put forth something that was more familiar to me. The performance used downstage light to project the performers' shadows against a white screen, which created a powerful effect. The classy costume design and the simulacra effect of the shadows immersed me immediately in this piece.
"Connection Beneath, Colored the Same Within," choreographed by Mickai Mercer '19 presented a dance piece about skin and its connotations. Following the juxtaposition characteristic of postmodern dance, Mercer overlapped movement and voice to put forth concerns about skin, this entity that lives somewhere between the realm of biology and social life. "As It Is," by Sara Hollenberg '19 followed up with a performance that seemed at first deceptively simple, but then revealed technical complexity. The use of retrograde and the clarity of movement stuck with me. Another great performance followed: "Between Dinner and a Show," choreographed by Shae Gwydir '20. I found this piece particularly humorous and intriguing. The playful use of sharply performed pedestrian movement made of this piece one of my highlights of the night.
Closing the broad range of performances on Program A, "What Are We Dancing To" will stay on my mind for some time. Choreographed by Piccole, this piece focused on the social world that comes along with hip hop. The performance combined audio recordings with music. Seeing the dancers' hip hop moves while listening to a person talking about authenticity escapes my power of description: it was powerful and intelligently arranged. Caleb Perlman '19, one of Piccole's dancers, talked to me about the piece a bit and told me that it is "both personal and universal in its message," which is a great way to put it. In this brilliantly choreographed performance, one is reminded that dance exist in a complex cultural and social world that is worth consideration.
Having seen only Program A, I cannot wait to see Program B. Program B has four other intellectually engaging pieces; with a total of 12 unique choreographers, the 2018 Spring Dance Concert is an incredible burst of creativity and research.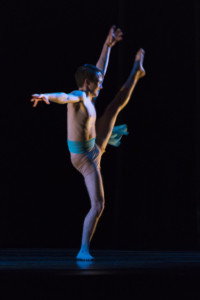 Drew Murdock '21 performs. JAMES MACDONALD/THE BATES STUDENT