Art Walk Brings L/A Community Together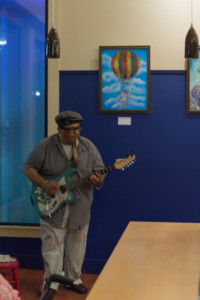 A performer at Art Walk L/A. JAMES MACDONALD/THE BATES STUDENT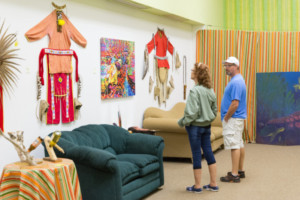 A community member contemplating work at Art Walk L/A. JAMES MACDONALD/THE BATES STUDENT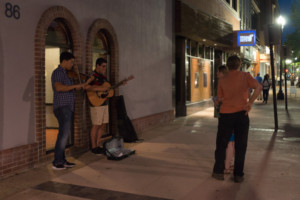 Bates students perform at Art Walk L/A. JAMES MACDONALD/THE BATES STUDENT
Music floats on the warm summer wind at the monthly Lewiston Auburn Art Walk. Tin Panic Steel Band, dressed in festive Hawaiian shirts and leis, plays percussive renditions of a wide range of music, from big band jazz to Michael Jackson's "Billie Jean." Young children dance and run through a crowd of people who have gathered to listen to the music. Autumn leaves fall gently to the ground, promising cooler weather, as the festival goers soak in the last moments of summer.
Nearby, a man recreates the festive scene on canvas. Kenneth Harvey, a watercolor artist, has been putting his art on display at the Art Walk for people to see for four years. Not only has Harvey shared his art with the community in this aspect, but the accomplished painter has had his art displayed in the Central Maine Medical Center's rotating art exhibit.
Art Walk is not merely about showing off his work. "[The Art Walk] is an opportunity for local artists to get out in the community," he stated, saying that his favorite aspect of the event was "meeting people."
For Harvey, however, the Art Walk is not merely about showing off his work. "[The Art Walk] is an opportunity for local artists to get out in the community," he stated, saying that his favorite aspect of the event was "meeting people."
Further down Lisbon Street, George Ramos displays his traditional Native American beadwork and clothing as well as various acrylic pieces. Fern Stearns, an acrylic artist, exhibits nearly thirty incredibly detailed tree conk memory paintings. Each individual scene is painted carefully onto a cross section of a tree, and each depicts a different snapshot of everyday life. In the same building as Ramos and Stearns, photography by Daniel Ramos highlights the beauty in day to day occurrences, such as how, when blurred, a car's red tail lights can make for a mesmerizing, almost futuristic picture.
What stands out the most, however, is a series of surrealist paintings by Matthew Peinado. On each canvas, a squished face is surrounded by colors and shapes, each face expressing a varied level of anguish. One painting, titled "Ooze," combines Peinado's primary mediums, acrylic and airbrush, into a surrealist work depicting a human head with various forms of slime running down the face. This recent work is Peinado's current favorite, as it allowed him to practice fitting airbrush and acrylic mediums together and to experiment with how they best mesh with each other. Much like Harvey, Peinado expressed that he enjoys the Art Walk largely because of the community. "I love the Art Walks. It brings the art to the local community, and people can come in and out [with] no pressure," he stated.
For many of the local artists who display work in the Lewiston Auburn Art Walks, the people make the experience. Not only are the artists able to display their work, but they also interact with people from the community. One such artist is five year old Azilee Hollenbeck. This year is Hollenbeck's fifth year coming to the Art Walk, as her mother is a photographer who displays artwork in The Hive, an artist collective. Besides excitedly showing her paintings to the public, Hollenbeck also said that she "like[s] drawing art because it's really fun." In addition to art, Hollenbeck offers songs that she wrote, excitedly singing them for whoever is in the vicinity. In The Hive, with Hollebeck singing original songs about friendship and people conversing, holding hands, and simply being together, the vibrancy of the Lewiston Auburn area is evident in the warm atmosphere that emanates from the room.
Both Harvey and Peinado reflected on how the most valuable aspects of the Art Walk involve the community, and that sentiment was largely present throughout the entirety of the event. The Art Walk not only gives local artists a chance to get out in the community, but it also gives community members a venue to socialize and interact with each other. The overall sense of togetherness and enjoyment are overwhelmingly present, as everyone wears smiles as they mill about, talking and taking in the art.
Lewiston proudly displays its creativity and vibrancy in its Art Walks through eclectic music, a menagerie of art types, and most prominently in its sense of community.