Pulling his gray pickup truck into the parking lot of Just-In-Time Recreation, Dan Beazley offers smiles to curious onlookers at the curb. He unloads a tall wooden cross from his truck bed and wheels it to the front of the small, makeshift memorial for the 18 victims of Oct. 25's mass shooting in Lewiston.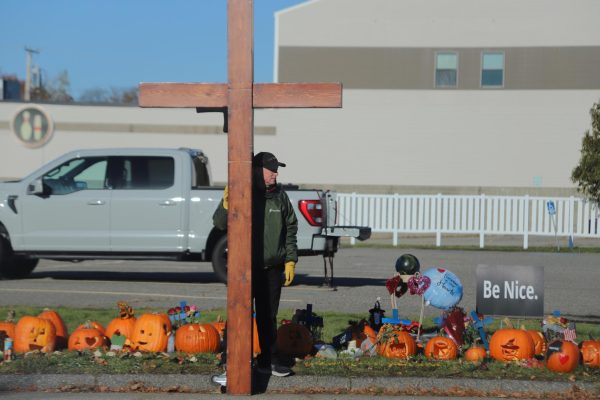 "I'm here because God sent me to shine his light in the darkness in this situation," he explains, "to help this community recover from probably the most horrific thing that will ever have happened to most of these people in their entire lives."
But Beazley, 62, doesn't know any of the victims or anyone else affected by the shooting. In fact, he's not from Lewiston at all, traveling about 870 miles from his home in Northville, Mich., to offer support to the Lewiston community in the wake of tragedy.
Beazley isn't alone. Since the shooting, support has flown into Lewiston from all corners of the nation. Singer-songwriter James Taylor sang at a major Lewiston High School football game. A video went viral of a Southwest Airlines flight offering their encouragement mid-air. Even President Biden paid a formal visit.
On the corner of Lincoln and Main Streets, Lewiston mourners were greeted by a gaggle of golden retrievers and their handlers hailing from Indiana, Ohio, Minnesota, Maryland, New Jersey, and Massachusetts. The group had erected crosses with blue hearts for anyone moved to write messages on — one for each victim. 
Pam Lienemann, 67, of Bloomington, Minn., accompanied golden retriever Gideon to Maine.
"It has been an honor to be here, to serve the people of Lewiston," Lienemann said. "We've met many victims. We've met many families of victims…It's been very impactful."
It's all part of Lutheran Church Charities' K-9 Comfort Dog Ministry, a national religious organization that sends golden retrievers with their handlers to wherever they're needed. Bonnie Fear, 61, is the K-9 Crisis Response Coordinator and flew to Lewiston from Fort Collins, Colo.
"These dogs just help people process whatever feeling they're having," Fear said. "When you pet a dog, you get a sense of relief…we've had people cry, we've had people start talking for the first time."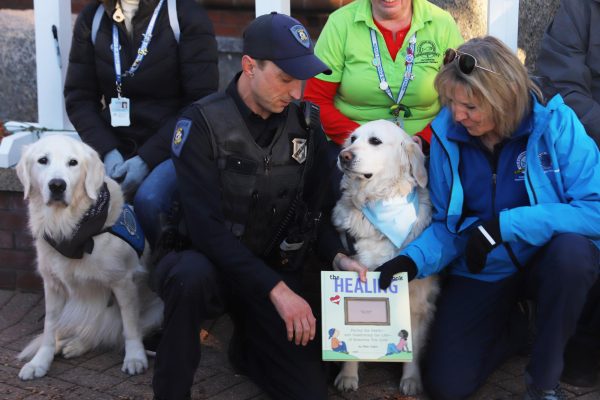 Lutheran Church Charities (LCC) prepares for "deployment" as soon as they hear of a crisis on the news, Fear says. Fear herself was at the aftermath of Uvalde, Pulse Nightclub, Nashville Covenant School, Las Vegas, and Allen, Texas shootings. 
These tragedies can be pretty heavy, "but I'm equipped to do it," Fear said. "When I see what these dogs do, it helps me."
According to its website, LCC hopes to "share the mercy, compassion, presence and proclamation of Jesus Christ" to those in crisis, much like Beazley. And while religion certainly hasn't been the only reason for people to support Lewiston, it is a powerful one for some.
"God doesn't want you to surrender to your fears or your anxieties," Beazley professes while describing his purpose in coming to Lewiston. "[Lewiston residents] live in one of the safest places in the entire world."
Fear expressed trust in her group's work to make a difference for mourning Lewiston residents. She says the golden retrievers can help in indescribable ways.
"[The dogs are] just that bridge of compassion for people that we have…we just show up," Fear said. "We don't try to fix [people] or do a lot of talking. It's the dog that does it."