"We should lead an AESOP trip together next year," Grace remarked, beaming at me. 
"Maybe we should," I thought to myself. Grace and I met on our freshman AESOP trip to Rangely. We shared a tent together, and we felt as if we had created a lasting bond through the adventure. When it was time to decide if we truly wanted to pay the joy of AESOP forward, the choice was easy, absolutely. 
Looking back, I had no idea what leading an orientation trip would entail. As an AESOPer, it can be difficult to gain a perspective on the work that goes into the trips themselves—you are thrown into a new environment in a new state with strangers, it can be overwhelming to think about. 
On the flip side, much more goes into being a leader than one may initially think. Leaders arrive about a week before AESOPers do, and they are busy for nearly each minute until the beginning of classes. Leadership Week was educational and tiring—but also magical. There is a lot of work that goes into preparing to lead an excursion into the Maine wilderness (or a campsite on the outskirts of Acadia National Park, we all have varying definitions of "wilderness"). While there are a variety of AESOP trips—from backpacking to exploring Lewiston—the trip that me and my lovely co-leader led was a base camping trip to Acadia. It is important to note that my experience is based off of the trip that I led, and that preparation for each trip looks different. 
Wilderness First Aid certification (WFA or pronounced "woof-fa" to us leaders) is required of all AESOP leaders who are leading an outdoor trip. WFA training entails two days of intensive outdoor first aid lessons, lectures and hands-on practice. Leaders were split into three groups and participated in numerous demonstrations—testing their co-leader's ability to diagnose different ailments that could occur in the field. WFA training was also where I learned that I am definitely too squeamish to be a doctor (I nearly passed out after seeing fake blood). 
Following WFA certification, leaders attended a variety of training sessions and lectures on topics such as group dynamic and game training to the history of Maine indigenous land. We also participated in a scavenger hunt with our leadership groups. We were given a list of tasks to complete for points—activities ranged from acting out a crime scene to taking photos in as many restrooms on campus as possible. The scavenger hunt is similar to the toothpick game (that freshmen play after meeting their AESOP groups). It was established to help group members form bonds with one another before embarking on an exciting outdoor adventure together. 
Then came the most exciting part of leadership week, our leadership camping trip. My group consisted of sophomores and seniors who were leading base camping and day hiking trips. We were sent on our way to Tumbledown Mountain with a cooler of food, tents, a van filled with people and packs and a small folder with our campsite information and itinerary. From the moment we departed from Chase Hall, we were on our own. The leadership trip serves as a test run for the real deal and is an opportunity for us to put our knowledge to the test. Our group set up camp, hiked, swam and cooked together. It was a great way to get to know other Bates students in a different class year and cultivate bonds with other sophomores. This was truly a highlight of the entire AESOP training process.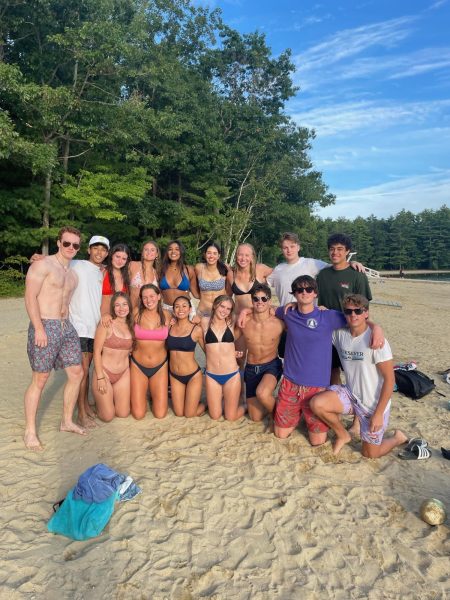 The final day before the AESOP trips departed from campus was another fan-favorite, leader introductions and the infamous toothpick game. Leaders were given creative freedom to express their personalities while introducing themselves and their trip to the Class of 2027. Costumes ranged from homemade Phineas and Ferb heads to inflatable SpongeBob and Patrick suits. My co-leader and I wore matching cow onesies, a crowd favorite. After brief introductions and a variety of icebreaker activities, our group decided to chat about ourselves over dinner. 
Finally, the toothpick game: a long-standing AESOP tradition. Each AESOP trip is led by two leaders—one leader stays with the group of AESOPers, while the other hides somewhere around campus, awaiting the groups with tasks and toothpicks. Depending on how well a group completes a task, they are awarded what the toothpick-distributer deems to be a sufficient award. The more toothpicks a group acquires, the better. Activities ranged from acting out a breakup to singing Taylor Swift songs. It's safe to say that many friendships were created through laughter that evening.
The following morning consisted of a group breakfast and a bus ride to Acadia National Park! I could not have asked for a better group of AESOPers, they made the experience all the more enjoyable. Leading an AESOP trip was easily one of the most fulfilling experiences, and I am so glad that I did it. Despite the ups and downs, initial challenges and setbacks, I would do it all again in a heartbeat.