Local Business Spotlight: Rolly's Diner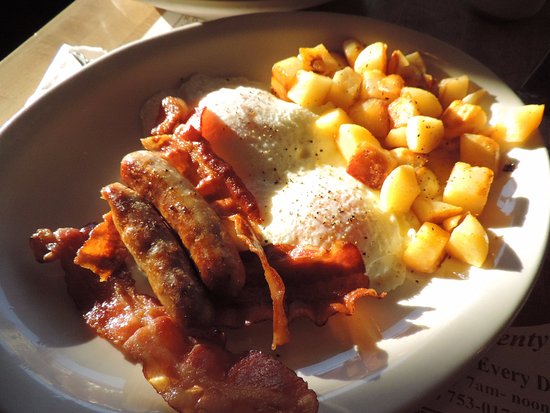 Join us on our tour of the Lewiston-Auburn area. Our goal is to discover and report on hidden gem locations, and raise awareness of local businesses. We also wanted to share some of our favorite spots to eat, frequent or shop at. If there is any business that you would like to see featured, please contact [email protected]. 
Looking for a casual cup of coffee? Or maybe a spot for the Sunday debrief where you rehash all of the night's wise and responsible decisions? If you're not feeling IHOP, where you have a 99 percent chance of seeing another Bates student, then choose the lesser known Rolly's Diner.
Situated in New Auburn on 87 Mill Street, the diner known familiarly as "Rolly's" has been serving customers for 30 years. In addition to delivering on casual brunch and lunch staples, Rolly's caters. The diner also hosts monthly United New Auburn Association meetings where they have been guest speakers like the Auburn public library director and the city's police chief. 
First opened by Ken Blais on December 18, 1993, Rolly's (named after his mother Rolande Blais) has become a dining staple for the Lewiston-Auburn community as well as generations of Bates Students. 
"I feel like I've seen a million of you guys. I remember a lot of students from the past. You're all super nice, super fun," said waitress and daughter of Blais, Sadie Blais. "It's nice to have that as a community here." 
Sadie spoke to the importance of having a place where students can have a break from campus life and take a moment to slow down. Rolly's provides an environment where customers can feel comfort through food. 
The warm and homey atmosphere evokes memories: pre-tournament game brunches and family road trip meals to name a few. There is something so nostalgic about the dusty red decor, the smell of coffee mingled with sizzling bacon and eggs, miles of hashbrowns, pancakes drowning in pools of syrup and everything dosed with a healthy pat of butter. Receipts are handwritten and the day's specials are on whiteboards behind the register.
Community is something that is very important to the staff, as they are a family-based business. The diner is filled with generational teachings and legacies. When interviewing Sadie, she explained that she started helping out at Rolly's at a young age, and she started working there full time when she graduated high school. "My dad opened it when I was 6 months old so I've kind of grown up here." 
She explained that she is in the process of learning the ropes to owning the restaurant, and plans to take it over after her parents. She is also working with her brother, who went to culinary school in the army.
Family mementos are a common theme that is seen throughout Rolly's and on its menu. One item that is popular amongst both customers and staff are "Sadie Crepes," which are chocolate crepes filled with mocha Bavarian cream and served with raspberry sauce. This menu item in specific creates the warmth of a home cooked meal. When asked if there is a secret ingredient that makes these crepes so delicious, Blais responded, "just love."