Question on the Quad is Back!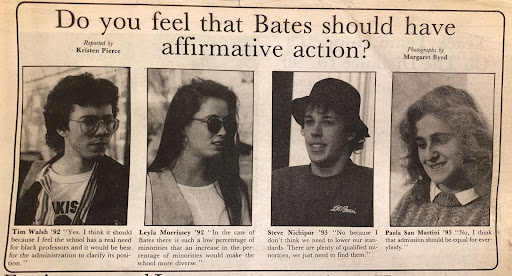 Over Thanksgiving Break, I was rummaging around my basement. It was partially out of boredom and partially to see what I could find in my messy storage closet. I stumbled across a box with old photos, newspapers and tchotchkes from Bates that my dad, a 1992 graduate, kept. I knew a fair amount about his time here, he talks about it constantly, but I never knew he wrote for The Bates Student. 
Along with ads for The Goose, a particular column caught my eye in each edition I picked up. It was "Question on the Quad" and it is exactly what it sounds like. A question would be asked to Batesies on our historic quad. The best four answers were recorded along with a photo of the students who responded. The questions varied from ones about the incoming president, affirmative action, eating disorders and if the Muskie Archives serve a worthwhile purpose. Many of the questions (and articles) all the way from 1988-1992 are relevant today. It seems as if not much has really changed these last 30-odd years. Some issues facing Bates back then are ones we continue to deal with now. 
After showing my dad all the old issues of paper that I came upon, he told me that I should bring back the question on the quad. He did it, so I should continue his legacy in that regard. The idea sparked my interest and well, here we are!
This was my long winded re-introduction of the Question on the Quad! I am glad it is back and you should be too. I will be out on the quad from time to time asking whoever will answer a question. It can range from topics of free laundry, Curb Cats, our new president or the reopening of our beloved Cage. So, if you're lucky, you might just get asked a question on the quad.