BESO Files Unfair Labor Practice Charges Against Bates College
On Oct. 18, the Bates Educators & Staff Organization (BESO) filed Unfair Labor Practice charges against Bates College. 
The allegations, according to a press release from MSEA-SEIU Local 1989, are based on evidence that the Bates administration "illegally threatened employees with adverse consequences, such as the loss of benefits and termination." The allegations also assert that the Bates administration "maintained and enforced a discriminatory no-solicitation rule to prevent employees from exercising their legal right to unionize."
Under the National Labor Relations Act, Section 7 & 8(a)(3) and (1), "Employers may not respond to a union organizing drive by threatening, interrogating, or spying on pro-union employees." The act also states that employers may not "threaten employees with adverse consequences, such as closing the workplace, loss of benefits, or more onerous working conditions, if they support a union, engage in union activity, or select a union to represent them."
Additionally under the National Labor Relations Act, employers may not "prohibit employees from talking about the union during working time, if you permit them to talk about other non-work-related subjects." This statement is particularly relevant, because according to the press release, "The College has not broadly enforced its solicitation policy in the past, for matters such as selling girl scout cookies, asking someone to attend an event, or sign a petition; selectively doing so in response to union activity is illegal."
As a result of the filing, the National Labor Relations Board (NLRB) will begin an investigation into the allegations levelled against the college. The findings of that investigation will result in either a complaint and subsequent hearing, where the court could issue a cease and desist of the unfair labor practice, or dismissal of the charges.
In response to the ULP filing, Bates College media relations specialist Mary Pols stated, "Bates received notice last week that the union had filed a charge with the National Labor Relations Board. On October 25 we received the actual charge, which provides few specifics. It alleges in general terms that the college interfered with the ability of employees to join or support a union."
Pols added, "We have made clear at every point that Bates will protect the rights of all eligible employees to decide for themselves whether or not they wish to be exclusively represented by this union, that we will not tolerate or engage in interference with these rights, and that we will respect the outcome of the election, whichever way it goes. We have asked employees to report any instances of interference or coercion to our human resources office for further investigation and action, and our department has received no complaints. We look forward to a swift and fair resolution of this claim by the NLRB."
Individuals involved in the union organization remain committed to their goal of advocating "for themselves, students, and the Bates community," as put in the press release.
Web Designer at Bates and BESO organizer, Olivia Orr, made this clear in her statement: "All we've ever wanted was the space to have open and honest conversations with our colleagues about the things we love about Bates and the things we want to see changed. These violations of our rights make it really hard to do this, and run contrary to the Bates administration's commitment last week to 'free inquiry and open discourse' during our effort. We've had some really amazing conversations all across campus since this began, and are building relationships across departments that make the College a stronger and more welcoming place. But this requires a work environment free from misinformation and intimidation."
Peter Osborne, Associate Director and Pre-Law Advisor at the Bates Center for Purposeful Work, as well as a BESO organizer, stated his reasons for helping to create the union: "I'm helping to build our union because I believe in Bates' potential to live up to its ideals. I think that can only happen, though, when all Bates workers have a real say in determining their working conditions and how to best serve current and future Bates students."
Leave a Comment
About the Writer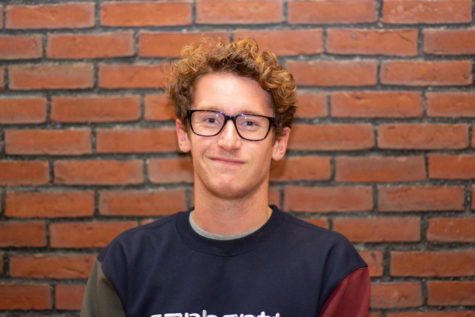 Jackson Elkins, Editor-in-Chief
Jackson Elkins is a senior from South Deerfield, Mass. He is a double major in Economics and European Studies with a minor in German Language and Culture....