Voices of the Bates Community Speak Up after Recent Anti-AAPI Hate Crimes
"Go back to where you came from," a man said to Ellie Bauer '22, as she passed him on the train in the airport in Denver, Colo., in February 2021. 
She thought to herself, "Where I come from… is Denver, Colorado." She was on her way back to Bates, ready to join the safe campus "bubble" once again. This incident at the airport eerily reminded Bauer of a different incident in Colorado from last summer, when a man asked her, "Where are you really from? Because we like your food, but we don't like your government."
As described in YouTuber Eugene Lee Yang's documentary, "We Need To Talk About Anti-Asian Hate," an Asian American is "a person having origins in any of the original peoples of the Far East, Southeast Asia, or the Indian subcontinent including, for example, Cambodia, China, India, Japan, Korea, Malaysia, Pakistan, the Phillippine Islands, Thailand, and Vietnam."
For more than a year, Asian Americans have been affected by a spike in discrimination and xenophobic attacks. Since last March alone, nearly 4,000 incidents have been received by the Stop AAPI Hate reporting center. Last week, a man was captured on surveillance camera in New York, kicking a 65-year-old Filipino immigrant. Last month, an Asian mother faced a stranger who wrecked her car as she was running errands with her children in Portland.
A mass shooting in Atlanta last month, which left eight people dead, included six women of Asian descent, instigating a new wave of grief and terror among the Asian American community, both in the world at large and at Bates. 
President Clayton Spencer released a statement the day after these spa shootings, encouraging members of the Bates community to use campus resources for support and to attend a virtual gathering with the Office of Intercultural Education at 6 p.m. later that day.
"As the world struggles with the ongoing COVID-19 pandemic, we continue to see an appalling rise in anti-Asian discrimination and hate crimes across the country," Spencer said in a statement on March 17. "Regardless of what the investigation determines about the motivations of these killings, they occur at a moment where anti-Asian bias has reached disturbing levels."
The Student spoke to five students and Dr. Noelle Chaddock, vice president for equity and inclusion, to hear the voices of the community and their responses to the recent hate crimes. 
Christina Wang '22, president of Asian American Students in Action (AASIA), discussed the difficulty she has encountered while trying to cope with the recent events. 
"Very few of my professors and classmates talked about Atlanta," Wang said. "If anything, white folks seemed extremely surprised and uncomfortable when I brought up Atlanta and told them how devastating it was for me and the Asian community to witness."
Asian American issues, she noted, have long been invisible in American media and discourse. She has only seen substantial coverage of the anti-Asian hate crimes after the Atlanta incident. While other people in the Bates community have moved on quickly from Atlanta, she said, she has struggled.
"When hate crimes like this occur, people of color cannot simply 'go on with their lives' as normal," Wang said. "We can't just compartmentalize, and brush it aside. It's white privilege to see a news headline like Atlanta, and be able to carry on with your day. For people of color, it's literally traumatizing for us to see attacks like this on the news.
"This is because the victims of the violence could've been us," she continued. "It could've been our friends and family."
Nathan Huynh '23, vice president of Sangai Asia — a student-led club promoting Asian and Asian American awareness, identity, and fellowship on campus — has lately been researching anti-Asian discrimination and reaching out to his Asian friends, making sure they know that he is there for them, in case they need someone to talk to. He has been worried about his grandparents, who live in California. 
"Every time I see something like this happen, it just hurts a lot on the inside, and I think of my grandparents," Huynh said. "I know that they do want to get out and walk around, but there is always that fear: what happens if they do go out and they get attacked?"
The worst part about this, Huynh said, is that this kind of fear is "not new." Anti-Asian racism has gone on for centuries; the good news, he said, is there has been a "noticeable change" in the way that the current generation approaches Asian rights. 
"This new generation of extreme hyper-activism has been really great to see," Huynh said. "So many people are now standing up for their own rights and other people's rights, making sure that people know that we are all human and we deserve to be treated equally."
Kyung Phil Ko '22 talked about how the recent events have made him think more about history and why things are the way that they are. 
He noted the political narrative that accused immigrants and refugees of taking jobs away from American people.
The data does not support this narrative, Ko said. "Immigrants and refugees are often filling in jobs that American people don't take anyways. Also, the Silicon Valley boom is supported by H-1B foreign skilled workers because Americans cannot fill the labour demand. Another classic example are policies laid out in the 2008 and 2020 economic recessions: immigration and foreigner work visas were taken away quickly through Obama's Employ American Workers Act in 2009 and Trump's executive order in 2020."
He connected this political narrative to anti-Asian discrimination by discussing economic hardship during the pandemic.
"Economic hardship and anti-Asian discrimination — racism in general — go hand in hand," Ko said. "When the 'American physical appearance stereotype' is a white person and the 'foreigner physical appearance stereotype' is Asian (East, Southeast, Indian, Middle Eastern, etc), I personally don't think it's a big leap to find anti-Asian discrimination happening, along with the statements 'go back to China/India' and 'why are you here making things harder for real Americans,' even though there are plenty of Asians born and raised in the U.S."
This led to another point: the importance of recognizing collective humanity and interracial solidarity during this time.
"I've seen a lot of discourse about how anti-Asian racism 'isn't really that bad,' and that discussing anti-Asian racism distracts from the crucial work of Black Lives Matter and other BIPOC-led social movements," Wang said. The term "BIPOC" refers to Black, Indigenous, and other people of color. "I really want to emphasize that it is counterproductive to pit marginalized groups against one another. Rather, interracial solidarity is so important in the fight against racism, colonialism, and imperialism."
People must collaborate with each other, Wang said, to dismantle structures of white supremacy, rather than fighting between racial groups. Chaddock echoed this sentiment.
"Mitigating anti-Asian racism is imperative," Chaddock said. "These are not, nor should they be, competing oppressions. We must work together toward racial equity, period."
In terms of possible next steps to make campus a more inclusive and safe place for Asian students, the students have some ideas.
Maddie Lee '24, a member of AASIA, said that Bates students should start looking for ways to get involved in person, rather than just posting infographics and other sources on social media.
"I would love to see more care and concern and anger about situations not just online, because then it wouldn't just be performative activism," Lee said. "It wouldn't just be, you know, a Band-Aid, like 'I put up my post, now people can see that I did my activist work for the day.' It needs to start coming into the physical space."
She said that all the people who have been posting that they care about the recent hate crimes against the AAPI community can start by attending an upcoming Zoom event that is being hosted by the Office of Intercultural Education. Next week, on April 15 at 7:30 p.m., Dr. Jennifer Ho from the University of Colorado Boulder, who has emerged as a national spokesperson on the issue of Anti-Asian hatred, will address the recent events, anti-Asian sentiment historically, and Asian-Black solidarity.
"I would just like to see all those people who are reposting the infographics follow that up with physical support on campus and not just when there's a tragedy," Lee said. 
Along with attending events, Bauer said that people need to embrace a "let's talk about it" kind of mentality on campus.
"As a community, we need to remember that Bates kids are the friendly kids in the NESCAC and that it is always good to reach out to people," Bauer said. "Even a simple, 'How are you?'…we can't control the rest of the world, but we can control what we have in front of us. We just need to start those conversations."
Checking in, she said, is the best thing one can do, since it is impossible to know how someone is feeling without asking. By maintaining that "friendly Bates community mentality," current students and the ones in years to come will find that "we really are a great community at Bates."
She said that one great step that she has noticed recently is the upcoming racial equity training on Apr. 22. All the sports coaches are encouraging their teams to attend this virtual meeting, preparing themselves by watching the Netflix documentary, "13th," and reading the athletic team racial equity and anti-racism development FAQ. 
"I am glad to see the Bates Athletics department is giving student-athletes the opportunity to participate remotely in racial equity training which helps us engage in more necessary discussions about this topic," Bauer said. "Additionally, I appreciate the Bates field hockey team for their support and willingness to open up and talk about these racial disparities."
Wang agreed that there needs to be more discourse about anti-Asian racism at Bates in general. 
"Importantly, though, the burden should not be placed on Asian or BIPOC students to do this teaching," Wang said. "The history of anti-Asian racism needs to be included in the Bates curricula. This will allow community members to recognize anti-Asian racism and be equipped with the tools to call it out when they see it."
She emphasized that professors should teach Asian American history and culture without centering it around trauma, and that it is critical to teach and celebrate Asian accomplishments.
She also suggested hiring more Asian staff, faculty, and mental health professionals at Counseling and Psychological Services center (CAPS) to make Bates a safer and more inclusive community for Asian students.
"There are very, very few Asian staff and faculty members at Bates," Wang said. "After Atlanta, I was really yearning to speak and process with an older Asian individual, but I didn't feel like I had anyone I could go to who truly understood how I felt, which made me feel extremely lonely and isolated."
That sense of loneliness is borne from feeling alone during an especially isolating time.
Lee said that her vision for an ideal campus climate aligns with the rules for Blob Tag, a children's playground game. It is like chain tag, where one person tags another to become a chain on someone else's "blob."
"I imagine people reaching out and banding together and hooking people in to come and support each other in real life," Lee said. "It should be like that on campus. We need to pull people in, whether that's sending your friend a cool event you think they should check out or a podcast or something."
Given the current racial climate in the U.S., if members of the Bates community could come together to actively address anti-Asian racism, Chaddock said, that could be a step in a positive direction for the college.
"I believe that our entire campus community at Bates College can do better," Chaddock said. "We need to work together to improve the campus climate and culture. We must not tolerate anti-Asian racism. We must not tolerate any type of racism at all."
Anyone who needs support can visit Dr. Chaddock's office, the Office of Title IX & Civil Rights Compliance, the Bates Employee Assistance Program, Counseling and Psychological Services, the Multifaith Chaplaincy, or the Office of Intercultural Education.
Leave a Comment
About the Writer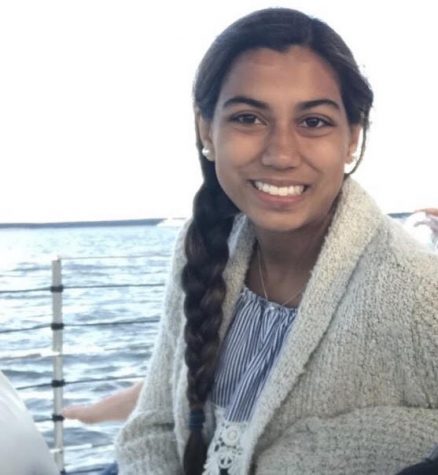 Sacha Feldberg, Assistant News Editor
Sacha Feldberg is a sophomore at Bates, majoring in Politics.