Ice Climbing Is the Hidden Jem of Winter Sports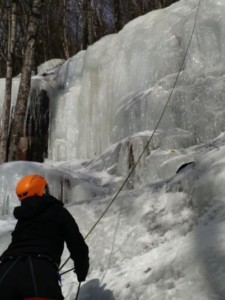 Ice-climbing is the type of Bates Outing Club (BOC) activity that has the potential to arouse tremendous fear amongst students. I can not speak for everybody but the thought of being suspended upwards of 30 feet, let alone 80 feet in the air when it is five degrees outside sounds intense but also very terrifying. After talking with BOC members Adam Dohn '20 and Sarah Abbott '21 about their ice-climbing adventures my perspective on the sport changed. Although Dohn and Abbott come from different levels of experience, they both agreed: "It is safe, fun, and the closest mountain, "The Crag," is only 25 minutes away. No experience is necessary and everybody is welcome!"
BOC is able to provide equipment to make these ice-climbing trips a feasible possibility for everybody. The most important pieces of equipment that are necessary for a successful ice climb are crampons, which are metal spikes that latch onto your boots, and ice axes, which, in the words of Kohn, are "gnarly looking picks that swing into the ice and allow you to hang on." Rope, climbing slings, and boots can also be found in the equipment room.
Kohn, from Corning, New York, has been ice-climbing for four years and recently led a BOC trip to the Mount Washington Ice Festival in North Conway, New Hampshire. He started climbing at the beginning of his junior year of high school. Before Bates, Kohn had to scramble to look for different cliffs to climb around the area where he lived and even remembers climbing the Sandstone boulders in the middle of the Pennsylvania woods. Now, as an active BOC member, he enjoys being able to find events that he can lead and undergo adventures with people who share a similar drive to try an activity completely new.
"In the climbing community having people to climb with is really huge because it is nice to have people that know the skills and can help you learn and get better," says Kohn. "The outing club is just a great place to connect with those kinds of people and if you are not super experienced with climbing, it is a great place to have somebody take you under their wing and teach you all that you need to know."
One such member of this tight-knit climbing community is first-year Sarah Abbott. Abbott, originally from Chatham, New Jersey, started ice-climbing as an after-school sport when she attended the White Mountain boarding school in Bethlehem, New Hampshire.
"Before I started school at White Mountain, I got a sports list and saw ice climbing. I didn't know what it was so I checked the box and signed up!" says Abbott. "It is interesting to know people who have the same hobbies but it is also cool to just meet people who want to learn things that you never knew about."
Among Abbott's favorite ice climbing spots are "The Flume Gorge" in Franconia Notch, New Hampshire and "The Shagg Crag" in Bryant Pond, Maine. As a busy first-year who wanted to continue to find climbing adventures at Bates, Abbott finds herself at the "The Shagg Crag" at least once or twice a week.
Kohn's favorite ice-climbing memory happened last year on a BOC trip.
"The trips can be really intimidating to start so we had one person that was coming up to the climbing wall and was absolutely terrified," Kohn remembers. "Everybody was cheering him on and he went one arm, one leg at a time. He slowly made his way to the top with everybody cheering and was super happy and proud. Just seeing people go through the huge span of challenging emotions of trying to push themselves to accomplish a feat that they have never done before is something that I love to see."
The peak ice-climbing season is relatively short and currently underway. During one of these cold winter weekends, especially as March lurks around the corner, be sure to stop at the BOC equipment room, contact Adam Kohn or Sarah Abbott, and sign up for an ice-climbing escapade!