College receives $19 million to establish Digital and Computational Studies Program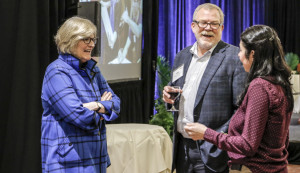 Bates College will now boast a Digital and Computational Studies program with the support of a $19 million donation from seven Bates families. In addition to the three new professorships needed for the DCS programs, a portion of the gift will go towards endowed professorships in neuroscience, economics and chemistry with a preference for biochemistry.
According to President Clayton Spencer, the faculty voted overwhelmingly in favor of the new program last May. The program will start in the fall of 2017 with a major intended for the 2018-2019 year.
The addition of the DCS program, as well as the three new professorships in the already established departments, marks the first expansion of the Bates faculty in over a decade.
The Bates DCS program fills an intellectual and competitive gap for the college, responding to a crucial academic need to prepare students for the data-driven and technologically-centered world in which they now live.
The program will be designed to "add to the liberal arts education we offer at Bates," according to President Spencer.
å"We also see digital and computational studies as a powerful opportunity to embed rigorous engagement with computational methods in the liberal arts curriculum, enriching study across a range of fields," President Spencer said.
Mike Bonney '80, chair of the board of trustees, and his wife, Alison Grott Bonney '80, made the largest single donation in Bates' history in support of this program, pledging a total of $10 million. Darrell Crate '89; J. Blair Frank '89 and Tena Fishman Frank '89; Bates parents to students in the class of 2012 and 2017, George and Ann Colony; and three anonymous Bates families also made significant donations in support of this endeavour.
Mike Bonney touted the speed at which these funds accumulated, noting it took eight months to raise $19 million. These funds will "establish [Bates] as a model for the 21st-century liberal arts college, committed to core educational principles, on one hand, and leading innovation on the other. "
Along with the other donors, Bonney expressed confidence in the future of Bates and "the talent and dedication of our faculty and staff."
Dean of Faculty and Vice President of Academic Affairs Matt Auer spoke of the rapid response to a call for funds for the DCS program and the "Bates-specific vision" for studies in computer science.
"DCS will help our students gain a command of computers and be able to interrogate what it means to live in a world that is awash in data and mediated by electronics and by computer technology," Auer said. "We also want our students to develop computational thinking skills. We want our students to learn how to use logic and algorithms to solve problems and to analyze and visualize data, and also to discern complex relationships among data sources."
"These important skills sets are already woven throughout our full academic program and the introduction of DCS can only improve this convergence of technology, data and scholarship," Auer added.
The gifts designated for additional professorships in neuroscience, economics and biochemistry responds to a need, as Auer puts it, for "more liberally educated biochemists, economists and neuroscientists."
These gifts will have an effect immediately. The future chair of the DCS program will be hired in next academic year. He or she will help shape the program and curriculum, as well as have a say in the next two hires for the DCS program.
The announcement was made at an event held Friday, February 5, in front of faculty, staff and trustees who toasted the families who made this landmark development possible.