A Message From President Spencer
Dear Members of the Bates Community,
Some recent events on campus received attention in last week's edition of The Bates Student, on social media, and in other settings. I take the concerns of our students and the Bates community very seriously. Accordingly, I thought it might be helpful for me to share some basic facts about these events and to give you a sense of the principles and values that guide my thinking about how to honor what is most important about Bates as we work together to move the institution forward.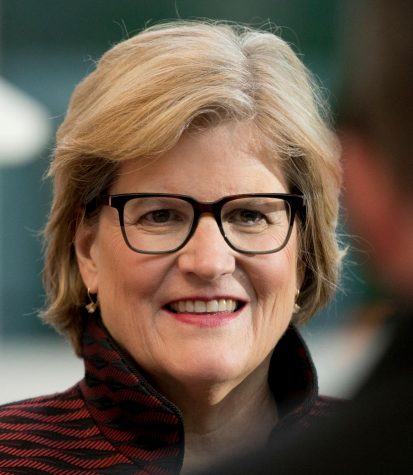 Background
On Feb. 23, Dean of Students Josh McIntosh announced a set of organizational changes in the Dean of Students Office, designed to strengthen the support we provide our students across all dimensions of their lives; achieve greater coordination with faculty and staff colleagues across campus; and create more effective systems for meeting the broad set of medical, legal, and regulatory requirements that play an increasing role in student affairs in the modern era.
The plan involves creating greater clarity and definition around positions and responsibilities in the Dean of Students Office and addressing areas in which we need newly defined roles to be effective in the rapidly evolving field of student affairs.
Many on campus have greeted these plans as positive and long overdue. At the same time, some have expressed frustration about the departure of two long-serving staff members and the lack of advance consultation on the planned organizational and personnel changes.
At a meeting on Wednesday, February 25, the Student Government's Representative Assembly made a decision to register their disapproval of Dean McIntosh and me in a vote of no confidence that carried 19-2. In a subsequent statement, these students acknowledged that the vote "carries no practical weight," but was intended as a "powerful rebuke of the college administration by the student body and their representatives."
I regret that the Student Government felt compelled to take this action, because it suggests a gap between the perceptions of a group of students and what I know to be widely shared aspirations for strengthening the Bates experience, even as we preserve the quality of community that is one of Bates' most defining features.
Principles and Values
Bates is an extraordinary place because of the powerful personal connections that faculty, staff, and students form and maintain with one another — both in and beyond the classroom. At our best, we engage each other with joyfulness and respect, creating an ethos of mutual caring and concern that strengthens every aspect of this community. Our collective dedication to exploring, learning, and being together, and the historic principles that call us to hail our differences as a source of power and effectiveness, combine to make Bates an exceptional place, distinctive among liberal arts colleges.
An important part of what makes Bates distinctive is the principle, embedded in our mission, that no institution remains vital, or even viable, if it stands still. As a "college for coming times," we at Bates have built our community not by hanging on fiercely to the status quo, but by challenging ourselves to engage each other, and the world, with rigor, energy, and confidence. From our founding Bates has been both a powerful community in the here and now and a progressive institution, inviting the future in as a source of strength and vitality.
My responsibility as a leader, and ours collectively as a college community, is to provide the best possible experience for every Bates student, now and into the future. This work involves building on Bates' considerable strengths and having the clarity and courage to tackle areas that need to be improved.
Even in a community with values as deeply and clearly aligned as are ours, we will not always agree on the specific means by which the institution moves forward. But if we continue to approach each other, and our differences, in the spirit of mutual respect and jointly held principles we will enrich the experience of the current students and lay a strong foundation for the future.
Some Context on Developments in Student Affairs
With these principles in mind, let me share some context on recent events.
First, the changes in the Dean of Students Office were made with care and deliberation, though necessarily without explicit prior public conversation, given that personnel matters were involved. It is our legal obligation and ethical duty to honor the dignity, respect, and privacy of individuals, and these obligations dictate what information may be shared and not shared.
That said, we took care to announce the planned changes in February, several months in advance of their full implementation. No staff departures will take place until after the end of the academic year to ensure that there is no interruption of important relationships or services for current students. Moreover, students will serve as members of the search committees for the new staff positions, meaning that they are participants in the hiring process and at the table to help shape the future direction of the Dean of Students Office.
Second, the organizational changes in the Dean of Students Office were based on extensive conversation and consultation with students and other campus constituencies. I personally have been closely involved with students and with student issues since the moment I arrived on campus two and a half years ago. I have had countless conversations with students, parents, faculty, and staff about ways in which we as a college need to improve our structures and effectiveness in a broad range of areas, from academic support, to residential life, to funding for student extracurricular activities, to social options, to norms of behavior around alcohol and sexual interaction, to student health and safety, to questions of campus culture and student leadership.
Views on these issues are predictably wide-ranging. But not a single person has suggested that Bates is perfectly where it needs to be in the area of student life. It is a domain in which external legal and regulatory frameworks have changed dramatically in recent years, and issues with student life and campus climate present significant challenges on every residential college campus. Several heartbreaking tragedies in our own community within the past two years serve to underscore this point.
Under the circumstances, I am thrilled that we were able to attract a student affairs leader of the caliber of Josh McIntosh, who is deeply grounded in best practices, while also being engaged, action-oriented, and personally accessible to students at all hours of the day and night. In his first year here, Josh has spent many hours getting to know students informally, and he has worked with students, faculty, and staff to create a series of venues for structured, campuswide work on issues that have remained too long in the shadows.
Students are front and center in all of these efforts through, for example, participation on the Student Government Executive Council, the Student-Athlete Advisory Committee, the Campus Culture Working Group, the Orientation Planning Committee, the expansion of AESOP to serve more students, the Board of Trustees' Committee on Campus Life, and the redesign of campus communications with students. Students will also participate as team members on the campuswide institutional planning process that will commence this spring and extend through the next academic year.
The goal of all of this work is to approach questions of student life and campus culture with greater intentionality and effectiveness, so that we have in place structures that more reliably support a successful experience for all of our students.
A Few Closing Thoughts
Recent events confirm what I know to be true — that students care deeply about this college, as do faculty and staff on campus, and alumni of every generation. Students also rightly want and expect to be included in the discussions and decisions that shape their own experience and the way the college moves forward.
On these fundamental points we are in wild agreement, as demonstrated by the many mechanisms described above for student participation in planning and decision making. Unquestionably, we have room to improve our channels of engagement and communication with students, and we are committed to working collaboratively to make progress in these areas.
Meanwhile, in all of this work — even when it gets personally uncomfortable — I am grounded by the fundamental values that define our sense of shared purpose, heartened by the solidarity I feel with the wonderful human beings who make up the Bates community on campus and beyond, and buoyed by the energy and creativity that are driving us forward.
Thank you for taking the time and care to read this letter, and thank you, as always, for the privilege of serving as the president of Bates College. I welcome any thoughts you may have.
With all best wishes,
Clayton Spencer