What do you get when you combine punk rock, horror, sex, and memoir set in a New Jersey suburb amidst the backdrop of a toxic storm? The spine-tingling play, Hamilton Township, written by Jason Grote – that's what.
From Thursday, April 3rd to Sunday, April 6th, four brave students shocked the Bates community with their performance in Gannett Theater. Directed by Andrew Overbye '14 for his senior thesis, the play showcased the dark side of humanity and the power of theater.
"It was a complex production that explored a troubling situation in a really beautiful way through the use of physicality and a small, intimate setting," states Allie Freed '16.
Set in a New Jersey suburb known as Hamilton Township, the plays begins with Babydoll, a prostitute (played by Audrey Burns '17), and Jason, a young, timid man (played by Colin McIntire '16), drinking wine coolers in a furnished family room while a toxic and mysterious storm rages outside and a comatose elderly woman (played by Katie Van Patten '17), lays lifelessly still on the sofa. The night is allegedly Jason's birthday and Babydoll, hired by a nameless character (played by Charlie McKitrick '14) is paid to give Jason any sexual favors he desires which he continues to refuse. They then wait until McKitrick's character, who remains nameless throughout the show, arrives with Jason's birthday present: the supposed heart of his abusive stepfather.
The play then plummets into an utterly unnerving performance of crude sex, death, and blood – lots of blood. Glass is smashed, punk music is blasted, and punches are thrown all while the audience watches with wide eyes and gaping mouths.
All four actors embodied their characters effortlessly, making the show seem hauntingly realistic, like the audience was watching real sex and real murder unfold before them. McIntire developed well throughout the play, showing how taking a human life can leave a lasting, detrimental effect on a person. Burns was powerful and captivating in her performance, revealing the ugly side of sex and what happens when Sadism and Masochism goes too far. McKitrick was absolutely terrifying on stage, embodying his character so well that I was too afraid to congratulate him at the end of the show. And lastly, although Van Patten did not have a single line in the show, her ability to portray the fragility of human life was absolutely heart wrenching.
It's safe to say that this was the most disturbing yet brilliant production ever performed at Bates. It was horrifyingly real, depicting the sinister side of humanity. And perhaps that's what was so frightening about it. During the darkest of moments, some audience members did not know how to handle the scene before them, causing them to laugh and chuckle nervously. The play tapped into a side of humanity many people never think about and made the audience question what they would have done in a similar situation. It showed them how animalistic humans can be, how sex isn't always romantic, and how death isn't always peaceful.
"It was an extremely heavy production," states Caroline Paikoff '16, "but it was refreshing to see something at powerful and moving done well at Bates."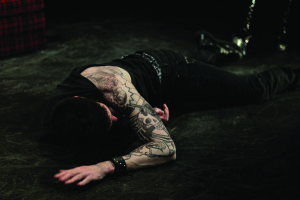 Overall, Hamilton Township was totally unforgettable. It was funny, frightening, and violent, showing how powerful theater can be in capturing human emotion. The set was simple yet the demands of this show were not. It tested the actors emotionally along with the audience, revealing how, perhaps, there is darkness within all of us.