What is Himalayan Spirit 8848?
Himalayan Spirit 8848 is an ethical fashion company from the foothills of the Himalayas, Nepal. It has made its way to Bates College from Suraj Karmacharya, the Creative Business Director of the company. Scarves from the company are now available at the Bookstore!
Who is Suraj Karmacharya '14?
Hometown:  Kathmandu, Nepal
Major(s) and Academic interests:  Politics and Economics. Interested in economic development of less developed countries, finance, and entrepreneurship.
Activities at Bates:  Co-Chair of the Senior Gift Committee, Career Development Fellow, and will be the best chef at International Dinner.
Life goal: To start my own infrastructure/energy company by the age of 30.
Fun fact about yourself: Big things come in small packages.
Matt: How and why did you become involved with Himalayan Spirit 8848?
Suraj: Nepal is one of the poorest countries in the world but is extremely rich culturally and environmentally. I was fortunate to receive a scholarship to the international school in Kathmandu, where I met the founder (Joshua Leslie) of Himalayan Spirit and went to school with him for 13 years. He is practically family. As we grew up, we talked a lot about the social injustices and challenges of the communities and environments that we had lived in. His mom was one of the first women's fashion designers in Nepal, so after Joshua graduated from Georgetown, he went back to Nepal to learn from her and start something of his own and that is the origin of Himalayan Spirit 8848.
As for me, my academic interests led me to want to do good work in Nepal while also enhancing my professional experiences. I hopped on as the creative business director with the responsibility to craft a creative perspective on our business principles, increase our client base and start a global presence.
What's the significance of the number 8848?
With a commitment to fair treatment of workers and the environment, Himalayan Spirit 8848 draws on the same standards that led Sir Edmund Hillary and Tenzing Norgay to climb 8,848 meters to the top of Mount Everest, the tallest mountain in the world.
We seek to climb higher, to create clothes that make a difference in the lives of both manufacturers and consumers, by embodying the same Himalayan spirit that drove Hillary and Norgay to reach new heights.
Explain the concept behind the company, and what makes the company unique?
First, what makes it unique is that we are college students from colleges diverse as Bates, Georgetown, University of Chicago, and Lewis & Clark, that allow us to have a holistic and conscious perspective. We can apply the theoretical understandings we learned in college to our business operations.
Second, we are not trying to create a social hierarchy of workers and management. Many large corporations establish sweatshops in Asia because they often value profit at the expense of other workers. We want to be conscious of who these workers are and whether they're really happy doing the work they do. We know all of our employees, their stories, where they come from, and their struggles. It is important to understand that working in the garment industry is considered the work of the lowest caste, so the company really tries to enhance the social reputation of the work.
The company is considered to be part of the slow fashion movement. What exactly is the slow fashion movement?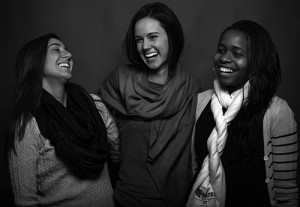 A slow fashion movement is essentially doing the opposite of what these huge fashion companies do, which aim to make profit as quickly as possible at the expense of other people's livelihoods. Slow fashion is the conscious process of understanding all of the variables that go into making a simple product such as scarf. For example, there is fabric, which comes out the environment. Merino is a natural fiber from the wool of sheep and must go through the processes of wool scouring, spinning, dyeing, warping, and finally weaving.
The goal is to ensure each step of this equation is being done ethically. We understand that this may be less profitable, but the goal of our profit is to do it harmoniously. So much of this business principle is reflected in where we come from, and the foundational elements of Buddhist and Hindu teachings that practice good karma and to do everything in moderation.
What are Himalayan Spirit 8848's goals for zero waste?
Waste isn't truly waste because the cycle is conducted in an ethically conscious way so even the waste provides opportunities for renewability.  When you have chaotic cycles of production you have huge waste and oftentimes the mess is too big to clean. The goal of zero waste is to do work in a sustainable style where our waste becomes the ingredients to reuse with minimal harm to the environment.
The company also participates in social projects in Nepal. What are some of these projects and why are they important to the company?
We have been very privileged to have grown up in Nepal and we want to give back to the community that gave so much to us. Having a foot in both developed and developing worlds has made us acknowledge some of the big privileges we have. For example, some Bates students will complain about waiting outside of the bathrooms at Ladd Library when many Nepalese rural communities schools won't even have toilets preventing mostly females students in attending school. Part of our goal is addressing issues such as this so we are working towards constructing a toilet in a rural school as well as providing basic school supplies such as notebooks and pencils that a lot of students cannot afford. To put things into perspective, the GDP per capita of Nepal is aprox. $705, whereas in the U.S. the GDP per capita is aprox. $50,000. Essentially, we try to support things in Nepal that many of us here take for granted, and our small gestures of giving are able to make important impacts.
What should be the role of business and entrepreneurs in society?
I think the most important part is that businesses and entrepreneur should add positive value to society in some way. Many economists argue that corporations benefit society through capital formation (employment, investment, creating products), which has some truth, but oftentimes, businesses, especially transnational corporations, forget that alongside value creation there is value destruction. I really believe in Buddhist economics in the sense that you need an idea of consciousness, which tends not to be typically acknowledged. The idea of consciousness is asking the larger questions like, "Is the business negatively impacting communities?" One challenge is that people perceive the world in so many different shades. I am personally trying to find my mosaic of beliefs that will hopefully integrate some of the principles of politics, economics, sociology, and anthropology that the business team is learning in college.
How can we make the idea of social responsibility more mainstream and part of the business ethos?
Every girl at Bates practically owns a pair of TOMS shoes, and TOMS markets that for every pair of shoes they sell they will give a pair to someone in a developing country like Nepal. You really have to ask the question what is more important for people in developing countries. TOMS' website states that their company "help protect children's feet from cuts, infections and diseases. When children are healthy, they can attend school, fight minor illnesses and grow up to reach their potential." Others argue that the profits should be targeted towards more important objectives, such as providing proper vaccines for malaria and preventable diseases. The truth is, at the end of the day, TOMS is making social responsibility more mainstream and part of the business ethos, so I'd say we can learn from those that have already been successful. Whether we hate them or love them, they've been the pioneers of our time and there's a lot we can learn.
What are your plans for the future, and do you want to continue your entrepreneurship?
Within all of us there is this revolutionary spirit that really wants us to do 'good' work and enact positive change. We occasionally get lost in the big question of what exactly are we doing now to achieve those goals. In order to really create that type of change you want, my philosophy is that you have to go through many experiences and it is important to realize that whatever work you do, it's adding some sort of dimension and layer of meaning to your life. Personally, I am trying to build my experiences and Bates has been a phenomenal part of this, because it has allowed me to realize what some my major beliefs are and discuss these values with people I agree and disagree with.
The next five to ten years I see myself continuing on this journey, and eventually I would like to end up in Nepal by the age of 30, with my value propositions in the form of business. Hopefully by then, I will be with my beautiful wife on a mountainside always ready to show my Himalayan backyard to any and all of my fellow Batesies, so do come through.
Anything else?
Yes, please support our cause and purchase a scarf from the bookstore. It'll keep you extremely warm and it makes for a perfect gift for yourself and others. The scarves have travelled a long distance and have been made with love and care. Also follow our pages:
https://www.facebook.com/himalayanspirit8848
http://www.himalayanspirit8848.com/
And finally, as we say in Nepal, Namaste (meaning: "My soul recognizes your soul, I honor the light, love, beauty, truth and kindness within you because it is also within me, in sharing these things there is no distance and no difference between us, we are the same, we are one.")! Share the spirit.