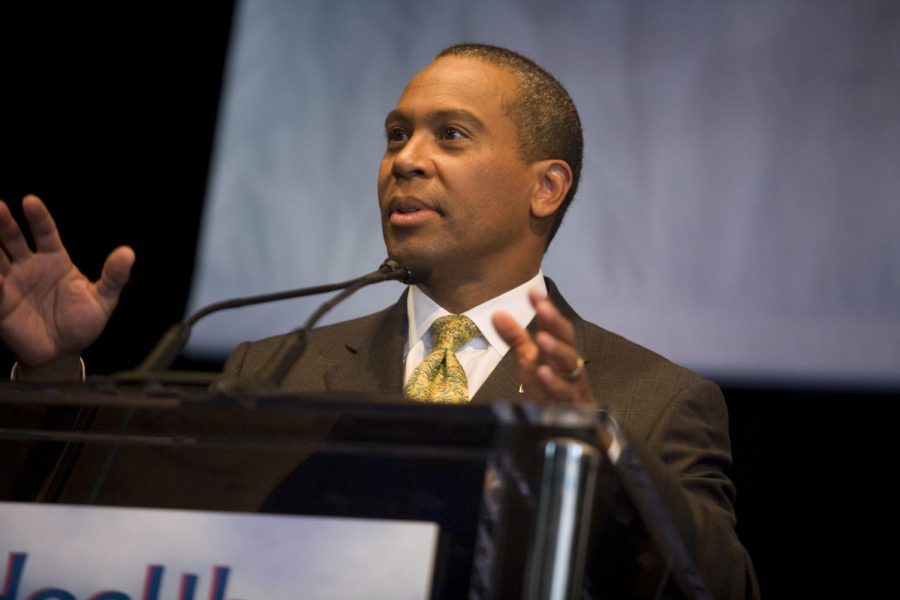 WEBN-TV via Flicker
Sitting back behind a built in wooden bookshelf lined with memoirs, history books, and photographs, Deval Patrick looked at ease. 
The former Massachusetts governor and past presidential candidate was the first speaker of the Benjamin Mays Black Alumni Society Speaker Series on Thursday, Oct. 1. The Black Alumni Society was formed on Juneteenth of this year and aims to create a network of black alumni of all class years.
So far the group has been successful in their goal — the event, held over Zoom, had close to 100 participants spanning a wide variety of class years. The event was moderated by Eric Obeng '07 but included a broad range of alumni.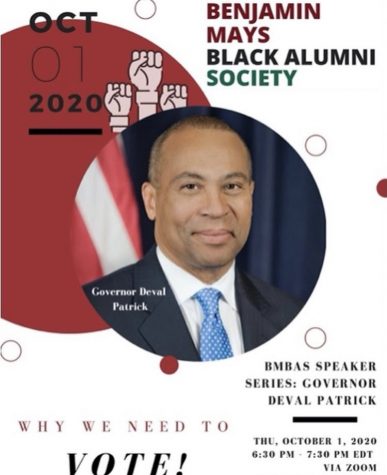 For Obeng, this event was especially meaningful. As a former resident of Wellesley, Mass., being able to vote Patrick into office in 2006 was very emotional. Patrick was only the second African American governor to be elected in the United States.
Patrick was an incredibly popular two-term governor — when he retired from office, Massachusetts was No. 1 in the United States in student achievement, health care coverage, and energy efficiency.
In his opening remarks, Patrick described the "decline of democratic norms and institutions [and] the entrenchment of inequality" that he believes the United States is currently facing.
The former governor also spoke about how his upbringing shaped his view on politics, from growing  up on welfare and to attending Milton Academy and Harvard University.
"There were food stamps when we were hungry and a public hospital when we needed to see a doctor," he said. "It's always been true that the government has had a role to play in helping people help themselves."
Despite his disappointment with  the current administration, Patrick told audience members that he is "hopeful" for the future.
"I'm hopeful because some of the issues that I raised are being talked about in a more forthright way than they have been talked about in a very, very long time," he said.
However, he added that watching the first presidential debate was "pretty grim."
Currently, Patrick is spending time campaigning and fundraising for Democratic candidates across the country.
"I'm active in a number of local races, house and senate races, and with the grassroots organizations supporting them," he said passionately. "What I see is incredibly exciting and encouraging."
After the Benjamin Mays event, Patrick told the audience that he was headed straight to another Zoom call to fundraise for Mike Espy, a Democrat running for the senate in Mississippi.
While Mississippi tends to be a Republican stronghold, Espy, who has recently won the endorsement of Joe Biden, is only trailing a point behind his conservative opponent. 
"We're going to win Mississippi," Patrick said enthusiastically. 
One issue that Patrick spoke at length about was the current "racial reckoning" the United States is facing following the murders of black citizens like George Floyd and Breonna Taylor. 
"Racism is not black people's problem, it's white people's problem," he said. "Be uncomfortable. Let's push through that instead of just dancing around it."
Patrick also noted the statements on race that many companies are putting out. 
"We have to ask for and demand outcomes, not just good intentions," he said. "When we think about economic policies, for example, we haven't really talked about wealth creation."
The former presidential candidate added, "until we start celebrating the strength that comes from actually being a nation of the world and that unique position and power it could give us, I'm not sure we're going to get to where we need to go."
Benjamin Robinson '86 was enthralled by Governor Patrick's remarks, and asked him to become a member of the Benjamin Mays Black Alumni Society. Despite not being an alum of Bates, Robinson joked that the group would make an exception for "people who went to school in Cambridge."
During the Q&A, Deborah Zawalich '74 asked about the safety of the polls, as there have been many recent reports on postal office slowdowns and many polling sites lacking workers.
Patrick has some hesitations, yet remains optimistic.
"There is energy about the significance of this vote on our side as well, and I'm trying to make sure that energy is high," he said. "It's increasingly clear that the [Republican National Committee] clearly believes they cannot win a fair fight."
He added, "[The United States has] made it increasingly harder to register, to maintain your registration, [and] to show up and vote." 
Voter suppression has been a contentious issue in recent political debates; states like Texas have complicated voter ID laws and don't normally allow absentee voting. Georgia has recently made the news for significant voter-roll purging, as well as having citizens waiting for hours in line to vote.
Currently, Maine allows early voting from Oct. 5-30, and does not require residents to bring certain IDs to the polls. 
The former presidential candidate also emphasized his beliefs that President Trump is "corrupt and often cruel."
Patrick concluded with a quote by Benjamin Mays: "Not failure, but low aim is sin."
Leaning back in his chair, Patrick sighed. "We're [going to] have to put low aim aside and think big," he concluded.