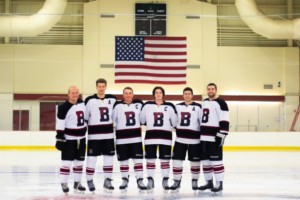 It's about that time of year again when winter sports start to come to a close, and men's hockey is no exception. After a tough season, the Bobcats were hoping to get a win out of Friday night's game versus Husson and they were not disappointed. Arguably one of the most exciting games of the year, every single member of the team gave it their all on the ice to walk away with a 3-2 win.
The final game of the season drew a large crowd, and the energy on the ice mirrored that of the filled stands. Their season finale was not the only reason for the impressive spectator showing. Friday night was special — it was senior night at Underhill. Out of the five leading goal scorers this season, four are seniors. The influence of the team's six seniors — captains Nick Barker and Sam Levin and assistant captains Andrew Cahill, David Katzman, Ryan Chinn, and Max Watson — can not be underestimated. Both Chinn and Watson came off of injuries and made some instrumental defensive plays. Katzman, Levin and Cahill were inches away from goals in the game vs. Husson, and if it was not for the opposing team's outstanding goalkeeping performance, all three players would have walked away with more points. Barker, to the crowds delight, extended his point streak with the first goal of the night, and just missed out on a hat trick with a goal in the third, sealing the deal for the 'Cats.
However, the seniors' influence spans much deeper than simply on the ice. From the battle against Wentworth Institute of Technology this year, to winning the NECHA open in 2016, to memories of the first moments with the team as first-years, all six men have grown together as friends and teammates.
It is no doubt that all six of them are strong leaders, and will be dearly missed next year by teammates and fans alike. Surely no one could know these players better than their coach, Michael O'Brien.
"I'm really proud of this hockey team, their effort and attitude was excellent all season," says Coach O'Brien. "The senior class created a fantastic environment, and those guys will be greatly missed. There's no doubt in my mind that next year's team will pick up where this club left off, continue to improve, and keep moving the program in a positive direction."
When I spoke to the six seniors, this was more than evident.
"With the perseverance and determination of this team's leadership, captains, and players we have been able to rebuild this team into a legitimate hockey program that I am confident will encounter much success for many seasons to come. I cannot be more proud or honored to have played alongside my fellow senior teammates, as we stood together since day one and carried this team with us," says Chinn. His fellow players could not agree more.
"Playing hockey at Bates College has been a true honor. I cannot thank my teammates and coaches enough for their support over the last four years. For us, hockey is more than a sport, it's a lifestyle," says Barker. "While this program is not considered a varsity sport, we aim to practice, perform, and behave as though it is. Over the last four years, we have improved as a team and a program, leaving the door open for future success under Coach O'Brien. I would be seriously remiss to not thank the fans who pack the Underhill on the norm. Thank you for all the support. Finally, thank you to my folks who started me off on skates at a young age and encouraged me to pick up hockey. Without your support over the years, driving me to early practices and packing in the cold rinks on Saturday nights, I wouldn't be here."
Finally, no one summed it up better than senior captain Sam Levin. "The ice hockey team has been a cornerstone of my experience at Bates. One thing that I told the guys a lot this year is that, inevitably, someday we'll look back on our memories here and want it all again — and when we do, it is important for that to be for the right reasons," he says. "Friday's win, a hard-fought team effort in front of the diehard Bobcat faithful, was a fitting way to cap off an incredibly rewarding season. The alumni game and reunion the following day were also nothing short of spectacular. We had guys out there ranging from recent graduates and former teammates of mine to members of the classes of 1965 and 1980, respectively."
As noted by Levin when asked about the weekend, "I cannot possibly express enough gratitude; Bates Hockey is a family that it is truly an honor to be a part of."