A DJ's thumping bass blares throughout the Gray Cage, I am gently swaying with the pulsating crowd; communication with friends becomes a game of lip-reading. Where am I? The Gray Cage before Bates' Fall Concert performance, Lil Yachty.
As many of you know, this past weekend our campus hosted the 21-year-old rapper Miles Parks McCollum, famously known as Lil Yachty. Rocketed to fame after singing or featuring in songs such as "One Night," "iSpy," and "Broccoli," Lil Yachty is best-known for his self-named style of "bubblegum trap." Indeed, his tracks show the influence of the percussive musical staples found in trap music paired with sounds from animated children's shows and gaming consoles, thus aptly fitting his style. His lyrics vary, often including references to drugs and sex; these themes are consistent with the trap style, though Lil Yachty also sings positive songs without explicit lyrics.
The process of bringing Lil Yachty campus began last spring when the Chase Hall Programming Board (CHPB) sent out their general interest survey regarding artists to bring for the fall concert. According to the CHPB co-presidents, over 700 Bates students proclaimed their interest in Lil Yachty. The organization had since worked diligently to bring the up-and-coming rapper to campus. Some of you may be wondering why a rap artist came to Maine; I have no answer to this, other than that CHPB must have been very convincing in their attempts to adhere to students' wishes.
The concert experience was similar to any other large concert: metal detector wands, security scanning QR codes, and long lines for restrooms. Tickets and event emails indicated that Lil Yachty would start his set around 9p.m., however, at exactly 11:04p.m. the artist finally took to the stage.
The set itself was exactly what students expected; Lil Yachty sang through some hits such as "Minnesota," "iSpy," "One Night," "Broccoli," and "Peek A Boo." Some of his stage crew or sound mixers seemed a little distracted, and my taller friend noted that one of them was on his phone. Regardless, Lil Yachty's energy kept the performance going strong.
Interspersed throughout his set, he tried to get students and attendees to form circles, presumably for dancing. He would pause between songs and call for the crowded mosh pit before the stage to spread out into a large circle. I was standing towards the back, so I did not ever see his goal come to fruition. What I did experience was an uncoordinated, drunken push away from the stage followed by several people shoving back towards the front each time Lil Yachty attempted to make his circles work. Towards the end of the concert, he gave up; maybe he finally figured out that drunk college students are not very good at following directions.
The set ended at around midnight, however, the fun continued for all concert goers with a Bates ID or friend with a Bates ID; Memorial Commons hosted 50 or so pizzas (including gluten-free pizza) and a DJ until 2:00a.m. Exhausted from trying to resist the rowdiness of the concert crowd and content with my concert-going experience, I grabbed a few slices before heading home for the night.
Looking back, I had a wonderful time Saturday night. This fall concert was a success in the books; even though I graduate this spring, I know that Bates will bring another student-centered performance to campus next fall.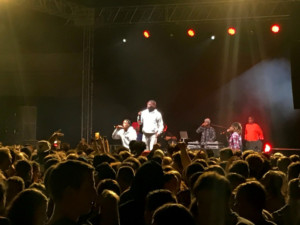 Lil Yachty performs in the Grey Cage. JAMES MACDONALD/THE BATES STUDENT