Diary of a Madman was a show to remember. The performance happened from Thursday, November 9 through Tuesday, November 14 in the Black Box Theater; I was afraid tickets would be sold out completely, but I managed to sign my name for Saturday's show waitlist. Prior to watching the thought-provoking show, I had already interviewed Nate Stephenson '18; I knew what to expect. Having watched a couple other pieces of acting by Stephenson, I was sure the acting component of his senior thesis for the Theater Department would be phenomenal. Senior Lecturer in Theater Katalin Vecsey adapted and directed this show based on Nicolai Gogol's short story from 1835, which bears the same iconic name, "Diary of a Madman." As I walked in this one-man show, a pair of words from Stephenson's previous interview echoed in my head: "visceral emotions."
The original story portrays a working person that is driven insane. He works sharpening pencils in an office but has delusions of grandeur and ambition. After falling in love with his boss's daughter, he goes progressively insane and ends up in an institution, believing he is the rightful heir to the Spanish throne. As one can imagine, the writing, in diary-like format, is emotionally intense with unique character development. In the adaptation to theater, Stephenson plays "Everyman," the only, though nameless, character physically in the show.
"It starts off with a guy that is pretty normal; he is a little odd, […] but by the end of it he is a broken human being," he summarized. Adapted to the 21st century, Stephenson is surrounded by 18 monitors that show dates, text, and images that bombard the audience with an extra input of information. On interview, Stephenson commented on the great timing of the show. With the recent political developments of the Catalonian movement for secession, Diary of a Madman was able to use real headlines on the monitors to bring the story to life. Adding further relevance to today's world, the dates mentioned in the original story, such as Wednesday, October 4, happened to fall on Wednesday this year.
Stephenson spent 6 weeks in Moscow over the summer of 2017 with the Moscow Art Theatre, an organization founded by renowned director and actor Konstantin Stanislavski. During his 42 days in Russia, Stephenson saw 34 shows. He has been engaged in this show since February, when Vecsey extended an invitation to collaborate on this piece. The whole team's preparation and research was visible in the final product.
Stephenson's acting is honestly fantastic, especially considering that he is alone on the stage for this hour-long show. Stephenson told me that having all the information for this one show without a partner to bounce off of was a long, but stimulating process. "Relating to the character personally was more difficult for me, because there really is no character. The idea is that something like this could happen to anyone," Stephenson said. I was astonished to see his mastery; the lines, body score, and emotional intensity rise to what seems to be one of the most challenging pieces of acting I have seen at Bates.
Stephenson mentioned that this show is the closing of a cycle for him. "My first major role at Bates was as Mankind in this play called The Castle of Perseverance," he mentioned citing the play from Winter Semester, 2015. Playing Everyman in his thesis performance, he finishes his theatrical tenure at Bates through again representing a universal condition.
It has been a pleasure for me to accompany, even if for only a couple of years, the development of Stephenson's acting. For me, Diary of a Madman was a show of cycles, beautifully linking 1835 to 2017, and masterfully connecting an actor to his character.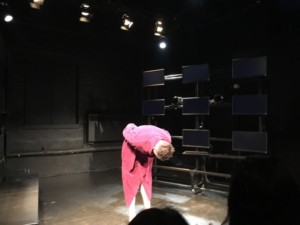 Stephenson bows afte his senior thesis performance. VICTORIA DOBBIN/THE BATES STUDENT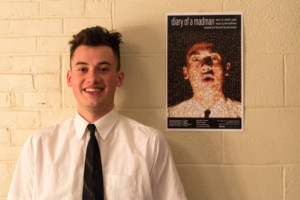 Stephenson '18 poses next to his poster. JAMES MACDONALD/THE BATES STUDENT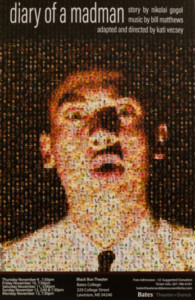 Publicity poster for Diary of a Madman. JAMES MACDONALD/THE BATES STUDENT