I arrive on campus and see the tremendous changes from when I lived at 97 Bardwell Street, now the home of a faculty member. I used to run up the street to visit my grandparents, Louis and Sadie Brackett Costello, at 45 Campus Avenue, which is now a parking lot. It brings back memories of my grandparents, my childhood, and Bates.
I remember looking over to the campus from my grandparent's fabulous front porch. I watched gatherings for graduations and homecoming weekend, but for me, across the street to the campus seemed a world of its own. Little did I know that I would grow to appreciate my grandfather's deep love for and involvement with Bates; little did I know that I would one day be a student and Bates alumna, and come to love Bates myself.
Louis Costello and Sadie Bracket met at Bates when they entered the class of 1898. Louis was from Wells and Sadie from Phillips, ME. They began their newspaper careers at Bates by working for The Student.
He told his friend Charlie that "Sadie is the brightest and most prominent of the '98 girls." After working closely together for two years, Louis confessed his love. Sadie told him she would "entertain that idea," and their love blossomed. Louis was the Business Manager his junior and senior year, as well as class of '98 Student Council President. He roomed in Parker Hall.
Sadie was a contributing writer and board member. They were very active members of their class and their love for the school and participation in its activities continued for the rest of their lives.
Louis and Sadie were married in 1900 and very soon after became involved with the Lewiston Daily Sun. Louis was the Business manager and Sadie was the Women's Editorial Writer. They had two children, Russell and Louise. Sadie continued to write for the paper for many years. Louis would eventually own and run the paper until his death in 1959. Louis was elected to the Bates Board of Trustees in 1916 and awarded an Honorary Doctor of Law from Bates in 1952.
My name is Jane Costello Wellehan '60. My Dad, Russell H. Costello '28, attended Bates for two years before transferring to MIT in Boston. Even though my parents lived down the street, I lived on campus when I transferred from Manhattanville College of the Sacred Heart my sophomore year. I felt it was the only way to really experience the school. My interest as an alumna is in the Bates College Museum of Art. We didn't have a museum building when I was there, so I was very excited when Bates built it.
The class of '60 was the first class to live in what is now known as Page Hall but we called it "Smurd" — I don't know why. We were the first class to jump into "The Puddle" and the last class to have The Mayoralty Campaign, a great tradition at Bates during Winter Carnival. The event got too rowdy, so it was stopped by the powers that be. The Blue Goose was a hangout for our class and I hear it is still a hangout now! Dancing to the jukebox and listening to the Platters was a favorite Saturday night event.
Although I graduated from Bates with an English Degree, the classes that stayed with me and fed my soul were the two-year, four semester required courses of Cultural Heritage, which awakened my love for ancient cultures and religions, art and architecture. I loved studying Comparative Religions, too.
Two of my granddaughters, Bridget Ruff '18 and Amelia Damboise '21 are taking classes in some of the same buildings and walking on the same paths their great-great-grandparents did over 120 years ago! What an incredible tradition. Louis and Sadie would be proud of the articles that Bridget has written for The Student — harking back to when she sat in her room and wrote her own articles.
So much has changed at Bates, and yet at its core, much remains the same. Sadie and Louis fell in love with Bates and each other as their minds were exposed to new ideas and professors, just as I was, and my two granddaughters have been and will be. From my little corner of Campus Ave and Bardwell Street, my love for Bates and what I learned there enriched my life.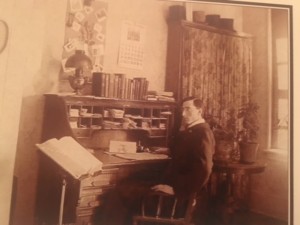 A Bates student relaxes in their turn of the twentieth century Parker Hall room. JANE WELLEHAN '60/COURTESY PHOTO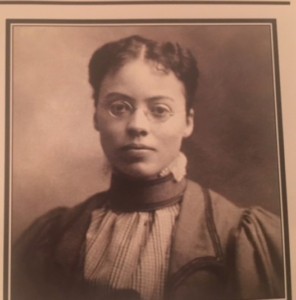 Sadie Bracket '1898. JANE WELLEHAN '60/COURTESY PHOTO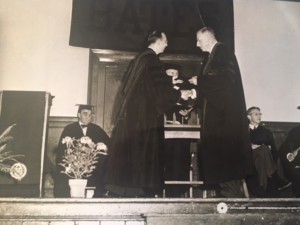 Louis Costello '1898 receives his Honorary Doctorate of Law from Bates' President Charles Phillips in 1952. JANE WELLEHAN '60/COURTESY PHOTO