On a dark and stormy night, I cozied up in the windowsill of the Benjamin E. Mays Center for another night of acoustic music at the Village Club Series (VCS) concert. Freddy and Francine, the group of the week, warmed up the cold weather with their soft voices and gentle jokes. The group is composed of Bianca Caruso and Lee Ferris. Both performers sang lead vocals and Ferris played guitar. Their sound was aided by the stomp of their heels on the echoey wooden floor; they didn't even need drums due to the strength of their feet and the reflective hard floor.
Caruso and Ferris met on a 2007 tour of Hair in Los Angeles, and have been based out of the town ever since. Both had previous careers; Ferris on Broadway stages and Caruso with an ABC comedy television show. Since 2008, they have released 2 EPs and 3 full-length records, available on Spotify, iTunes, and Amazon.
The group opened with a few jokes and an explanation of how they came to Bates; Ferris mentioned that he conducted a Google search about Bates' history, and found out that we were founded by abolitionists. The audience giggled, and the band started with their first song.
In between songs, audience members caught a glimpse into the psyches of the performers. Caruso and Ferris made small talk and light jokes, often about the weather or about Bates. They both were living in southern California, so apparently the torrential downpour was exciting, and Caruso kept joking that she "feels bad for the lacrosse boys out there" in the rain for hours. Each song was introduced by another joke or memory about its creation, and a song about a hotel involved several jokes about The Bates Motel and Psycho, a television show and horror film.
While their humorous content sometimes fell flat, their music was technically very strong. Both performers had clear voices with hints of southern accents; after scouring the biographies on their website, I found out that neither performer is from the south. Regardless, I thought I heard a hint of accent in their singing.
The group premiered several songs, including "Red, White, and Blue" from their forthcoming album. Before starting the song, Caruso compared the premier to a trust fall, because they might mess up the lyrics or make another mistake. As the title suggests, there were themes of patriotism and concern for US politics in the lyrics, though I did not hear any specific references to specific political events.
Another premier was the song "Ain't No Way," in which Caruso and Ferris highlighted the challenges of the traveling performer lifestyle with heartbreaking lyrics such as, "It's hard to tell the truth when it's staring back at you" and "Ain't no way to go back."
Despite these harrowing songs, the performers brought a cheery energy to the stage and evening. Their folk-indie-alt rock style appeals to many audiences, and the performance deftly moved through all three genres.
My favorite pieces of the night were their two closing songs, "Sideman" and Etta James' "I'd Rather Go Blind." During Sideman, a pop song about loving a sought-after man, Caruso convinced audience members to sing along with her during the chorus' oohs and heys. The succeeding song had a definitively different feel to it; it was a folk version of Etta James' original, but I still enjoyed it. Caruso's pure voice carried the pain of the lyrics, and I felt the scorned love of the narrator.
Their performance wasn't as popular as other VCS artists' performances have been, however, I appreciated Freddy and Francine's spunk and relatableness. Many other VCS artists' stage presences lacked the goofiness that the duo demonstrated on stage, and I hope to see more groups like Freddy and Francine perform in the Mays Center in the future.
Don't forget, VCS is every Thursday night in the Benjamin Mays Center; next week Humming House and Becca Mancari will perform in a special 90-minute show starting at 8:30p.m.!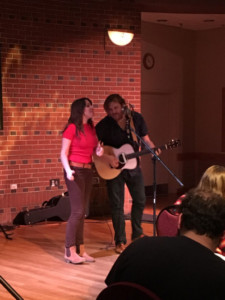 Freddy and Francine perform a new song at VCS. TORY DOBBIN/THE BATES STUDENT