On Thursday, GoldenOak, a band formed locally in Maine, visited the Benjamin E. Mays Center for a concert which was certainly worth the hour or so that I could have been spending on homework. I didn't even think about how far behind I am on essays once while listening to their ethereal yet modern folk tunes, but I did think about a few other issues.
I've attended every concert in the Village Club Series since I arrived at Bates last year, and so I was pleasantly surprised to hear that GoldenOak would be returning to Bates for the second time this fall. I had fond memories of their song "Montana" (probably because I'm from Montana) and their awkward-cute jokes and easy-going nature. I also distinctly remembered the unique sound of their combination of trumpet and cello instrumentals. Most of these good qualities were maintained by the group in their performance this year.
Of course, upon their arrival on Thursday, some significant changes in the band were immediately evident: two new members with a drum set and keyboard as well as a good chunk more confidence on the part of the lead duo, Zak and Lena Kendall.
I was hesitant. The first few songs, which I had heard the previous year, seemed less well polished and more ineffectual than they had before. The new instruments didn't quite mesh with the original members' sound, and the pianist especially seemed enthused but not productive. In fact, the piano parts never stood out as significant or actually contributing to the band's sound, and the drummer fared only marginally better. In addition, this inconsistency in instrumental accompaniment seemed to negatively affect the vocalist's performances. Harmonies in songs like "Bricks in Our Pockets" and "Montana" were either ineffective or simply out of key. Some lyrics, like the opening "I think we're afraid of the ocean, 'cuz it shows us how big we think we are," presented a weak attempt at depth (a flaw consistent with the indie and folk genres, I suppose), especially when the singer was less than confident in the notes they sang.
A further issue presented itself in the makeup of the band. The Village Club Series has come under some criticism recently for its implicit catering to white student audiences–VCS consistently hosts folk and indie artists, almost all of whom are white. The genre and racial makeup of GoldenOak did nothing to combat these accusations (though later performances this semester may reflect efforts at change).
But while my complaints stuck in my head throughout the first third of the band's performance, things changed as the performance wore on–at least in regard to the quality of the group's musical performance.
Part way through the evenning, GoldenOak began to play the songs from their brand-new EP, Foxgloves, starting with its title track. The mood in the audience suddenly changed; applause almost tripled, the energy of the band increased by tenfold, and the inconsistencies, missed harmonies, and instrumental disconnects the band had struggled with on its older works disappeared. Foxgloves wowed. Each track on the EP, especially crowd favorites "The Things We Steal," "Brother," and concert finisher "Separated by the Sea," had a different twist on the somewhat exhausted folk genre. Even the pianist had time to shine, riffing on a couple of unexpected solos. Most impressive was GoldenOak's cellist, Seth Wegner, who provided much of the somewhat ethereal background for the group's most impressive and genre-bending songs.
Concerns on campus about VCS programming were certainly not quelled by Thursday's performance, but the visiting group can't be faulted for that. GoldenOak can, however, be faulted for a lackluster and inconsistent start to their concert, but credit must be given where credit is due: the latter two-thirds of their performance more than made up any doubts about their musical capabilities.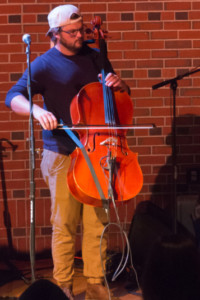 Seth Wegner plays the cello at VCS. JAMES MACDONALD/THE BATES STUDENT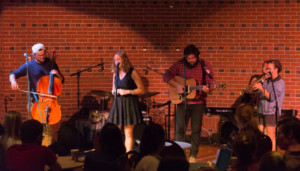 GoldenOak performs at the Benjamin E. Mays Center. JAMES MACDONALD/THE BATES STUDENT