Last Friday, March 3, the Benjamin Mays Center hosted My America Too. The show was part of the third session of the 2017 Mount David Summit, Bates' annual celebration of academic research and creativity. My America Too was divided in six sections, each presenting new characters and storylines. The thread of the show was extremely powerful, centered on themes such as: police brutality, implicit bias, media partiality, racism, and disenfranchisement.
It is not unusual for Bates students to hear these words in discussions, in the media, or in politics, but My America Too brought a new perspective to the Black Lives Matter movement. It literally brought the problem home, showing that racism is not a distant reality but rather a constantly present issue here. It allowed for the audience to zoom in the impacts of violence and racism by depicting individual stories. The show directed by Assistant Technical Director Justin Moriarty showed the inner workings one cannot see in the news. My America Too shows the behind the scenes of violence, reminding us that human lives are complex and full of nuances.
The six scenes of the show were carefully ordered, presenting a range of perspectives on violence. The performance focused on individual acts of police brutality, on white people perpetrating violence, on the violence experienced by black families, and on the impacts of these forms of violence in every sphere of society. As stated by Moriarty in the Q&A that followed the performance, the scenes largely go from "micro to macro," showing how the impacts of racism scale up from individual acts to infinitely looping videos in social media.
In the first scene, the audience sees a discussion between two police officers who shot a teenager. Two nameless characters, played by Samuel James '17 and Dan Kuan Peeples '17, seem to be in the immediate aftermath of their actions, in fear of losing their jobs and being crucified by the media. They fiercely discussed making decisions in a split-second. Empathy is impossible, since the officers have just killed someone and are now trying to understand how to justify their actions. James revealed some of the discomfort in playing his role. "How am I going to humanize those people who committed a heinous act?" he questioned.
It was interesting to start a performance about Black Lives Matter taking the perspective of police officers. In the Q&A, Erin Hazlett-Norman '19 summarized the experience of watching this portion of the show. "It showed the stories people tell themselves and each other," said Hazlett-Norman. A common thread in the performance was showing how racism exists into daily life and how it is established in real life. In one second, a character offers coffee, in the following second that same character mentions shovels, bricks, and concrete. In a split-second topics chance and in another a life is taken.
As the scenes go by, the effects of racism seem more and more distant, but never absent. In between each scene the audience could hear words from President Obama, discussing numerous cases of racial violence. In the last scene Michael Driscal '19 played the president himself. Even though President Obama was physically distant from the cases of violence he talked about in his speeches, the last scene made it crystal clear that racism is present in all spheres of American society.
"If I hadn't run…," said the former president in a clear resonance with a previous scene dealing with the numerous cases in which black people were killed because of running. Associate Dean of Students for International Student Programs James Reese captured the impact of these lines and scenes in sequence. "In English class we make these connections. In real life they are more powerful," he said.
One of the performances intentionally used props from Commons, showing that the topics being discussed don't happen in a parallel reality. It is here that we have this discussions and it is here too that the racism exists. The entire performance was permeated by how we are sometimes not aware of the implicit biases that affect our decisions. "This is something everyone should be thinking about," said the audience member Adrianna San Roman, visiting sister of Amanda San Roman '17.
My America Too shows that theater for social change has an impact on reality. It can take the audience to new places and understandings, showing how racism feels and is experienced in daily life. Ultimately, it is about what we can do to make this world better.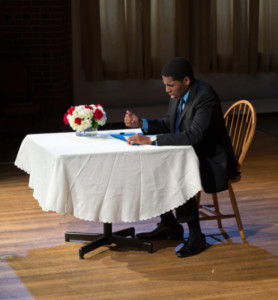 Michael Driscal '19 plays former President Barack Obama.
JAMES MACDONALD/THE BATES STUDENT