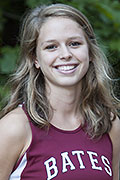 The Bates Student: Hi Jess, You are the very first athlete of the month this year, Congratulations! How does it feel to get this accolade?
Jess: I'm very excited and honored that you reached out to me, especially since Bates has so many talented athletes.
The Bates Student: Women's cross-country has enjoyed some initial success this season, isn't that right?
Jess: We have. Last week we were at Pineland for the Bates invitational. Wwe raced against Tufts, Wellesley, and WPI and placed second behind nationally ranked Tufts. Last year we came in 3rd, so it is exciting to improve on that result.
The Bates Student: How did you approach the Pineland race?
Jess: There were about 60 or 70 racers so we knew we needed to use good strategy. My teammate, Katherine Cook, and I ran together throughout the race, which helps mentally. We started consistently and conservatively and we gradually picked people off over the course of the race. Katherine and I work really well together and our mindset definitely led to our success.
The Bates Student: CBB. Who's the best?
Jess: Two weeks ago we raced Colby on their course and we swept them and won all the possible points, partially because Colby's team is all injured or not competing. Bowdoin we have not seen yet, but we will see them at states at Pineland soon.
The Bates Student: How's the team personnel shaping up?
Jess: We have five freshmen that are performing very well right now. Our sophomores have stepped up and a bunch of them are in our top seven fastest runners. The upperclassmen on the team have also been running well. We're a small but mighty team of 23 girls and we are all excited about how the season has gone thus far and excited for the rest of the season.
The Bates Student: What's next for the team?
Jess: Next weekend, the top ten are going to Kentucky and the rest of the team is going to Colby. Kentucky is the course for nationals so being able to see the course now is exciting. The following weekend is states and then the postseason starts.
The Bates Student: Anything else you want to share?
Jess: Come help cheer us on at the state meet at Pineland. We love to have supporters and it is much more exciting than track to watch so people should definitely come out and watch!