Three weeks into the season, Bates' lacrosse teams, men's and women's combined, have lost just once. Thanks to explosive offenses, strong goalkeeping, and tremendous defensive efforts, Bates lacrosse has nearly started the season perfectly.
The number six nationally ranked men lost for the first time on Saturday, 14-9 to fourth ranked Amherst. Senior Jack Allard and junior Charlie Fay scored three goals apiece. Fay leads the team with 15 goals on the season, while Allard is second in goals (13) and second in assists (eight). On the strength of five goals in the second quarter, Bates took a 7-6 halftime lead. Trinity's resounding third quarter response was five straight goals, as the Bantams built an 11-7 advantage that Bates could never erase. Now sitting at 4-1, the men's next opponent is Trinity, who are currently 1-2, in their home opener at 1:00 pm on Saturday
Last Wednesday, the Bates women beat Babson 12-7. After Babson went up 3-1 early, Bates began to dominate, going on an 8-1 run that effectively wrapped up the game. Moriah Greenstein '16 scored a game-high four goals for the Bobcats. Greenstein tops the team in both goals (19) and assists (14), and she's led Bates in assists every season since her freshman year. With 88 career goals and nine regular season games remaining, Greenstein has a shot to reach the 100-goal milestone.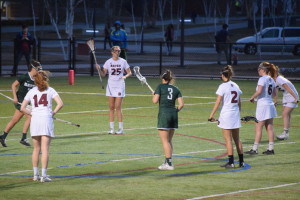 Continuing their excellent run of play, Bates defeated number nine nationally ranked Amherst 8-7 this Saturday to move to 5-0. Just as they have this season, the Bobcats got off to a blistering start, scoring the game's first four goals. While Amherst chipped into that deficit over the rest of the game, they were never able to overcome Bates. Three late saves by senior Hannah Jeffrey, last week's NESCAC Player of the Week, sealed the victory. Senior Emma Brinkman led Bates with four goals in the contest.
That victory forced coaches across women's college lacrosse to pay attention to Bates, as the team went from having no votes in the national rankings last week to being number 16 in the country this week.
After a comprehensive 13-4 victory over Roger Williams on Wednesday in which seniors Alex Briody and Greenstein each scored three goals and Jeffrey recorded five saves, the Bobcats will next visit Trinity on Saturday afternoon. The Bantams, who have had the best NESCAC regular season record every year since 2009, will likely pose the greatest threat yet to Bates' undefeated record. However, based upon their stellar season-opening run, the Bobcats should have plenty of confidence heading into that matchup.