A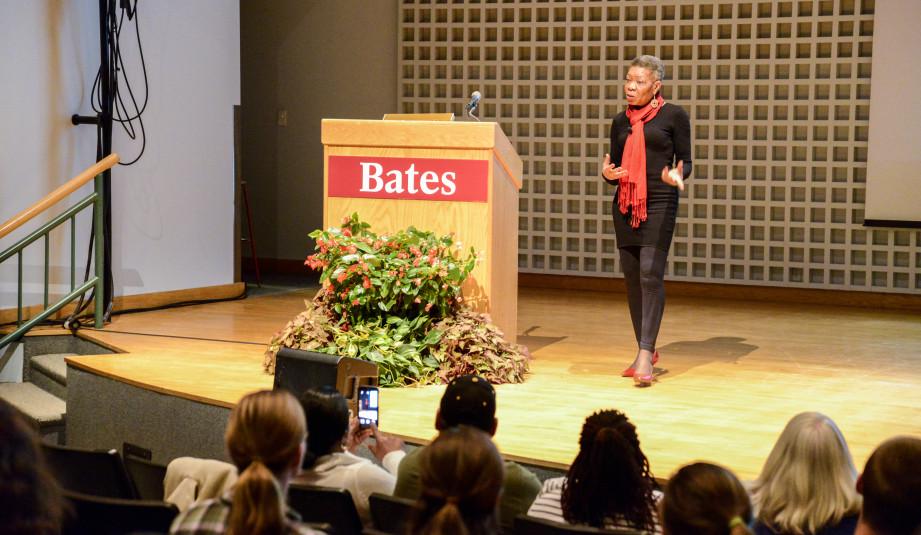 udrey Peterman, an outspoken and exuberant advocate for the use of the America's national parks, gave a public talk at Bates on March 2 in the Olin Arts Center. Before her talk, Peterman visited two classes and attended a dinner at the OIE with a diverse group of students.
Her love for nature began when her husband, Frank, saw a television program about the beauty of Belize. The spontaneous couple, with their last child already in college, decided to sell "everything they had" and move there.
Peterman recounted a story from a day at the local bar. Knowing that the couple was from the United States, a Belizean man asked if they had ever been to the Badlands in South Dakota. When they answered no, he asked, "Well, what is the Grand Canyon like?" He was dumbfounded that the couple had not been to the Canyon, either. Both Peterman and Frank realized that they had not yet seen the beauty of their own country.
Following the trip to Belize, the couple embarked on a journey to "discover America." They traveled 12,000 miles across 40 states from Florida to Washington state, visiting national parks and other famous natural landmarks they had never been to before. Since then, Peterman has been to a total of 175 National Parks and public lands out of about 408.
Peterman recounted her transformative visit to Acadia National Park, right here in Maine. "It was beautiful perfection," she recalled. "I realized the same thing made the park and me." She fell in love with herself through the places she visited. The park visit was not only freeing, but also filled with history. She learned that every racial group had a hand in developing our country and she was actually able to "walk in the footsteps of [our] ancestors."
However, she soon noticed that "visitation to the parks is almost overwhelmingly white." She remembers that, at one park, she saw only five other people of African-American descent. There were virtually no Hispanics and the only Native Americans present were outside the gates selling their goods. Further, there were a lot of white Europeans and few Americans.
Even though the United States was actually the first country to establish a national park system–lands protected for the benefit of the American public—Peterman explained that they are not well promoted and most people do not know that America even has such a system. 
After seeing how few racial minorities were visiting the National Parks, she and her husband made it their lives' missions to change this.
Peterman co-founded Earthwise Productions Inc., which connects the American public with the National Park system. With her husband, she created the Diverse Environmental Leaders National Speakers Bureau. She has been on the boards of the National Parks Conservation Association and the Association of Partners for Public Lands and the National Parks Promotion Council. On the local level, she has helped restore the Florida Everglades, the National Park closest to where she lives. She also blogs for the Huffington Post and has taken many diverse groups on tours to National Parks.
Adam Auerbach, a Cabin and Trail Director for the Bates' Outing Club as well as a dinner attendee, talked about his experience at the OIE dinner with Peterman. According to Auerbach, "we had a good, productive conversation at that dinner about how to make outdoor recreation more accessible at Bates."
Auerbach himself applied for the Outdoor Nation grant for Bates, which he was aware of through his summer job with the National Park Service. Earlier this year, Bates was granted a significant amount of money to fund beginner friendly outdoor trips, many of which occurred at the beginning of this school year. However, a majority of the money has yet to be used—so stay tuned for more trips this spring. You can also check out gear for individual use all year round from the Outing Club Equipment Room (E-Room) near the Package Center.
Also in her talk, Peterman highlighted others who are also working to help more people from minority groups gain access to and enjoy the parks. A "Restoration, not Incarceration" campaign has begun in Texas with the hope that, through having inmates restore lands in Texas, they will "restore" themselves. A book by Carolyn Finney, "Black Faces, White Spaces," explains the underrepresentation of African-Americans in nature, outdoor recreation spots and environmentalism. Peterman also mentioned an African American who climbed four of America's highest mountains and, at age 57, even led a group of black young adults.
Although most of Peterman's presentation addressed the racial disparities associated with National Park visitation rates, she ended her presentation on a different note with the sobering fact that our National Parks may not be around for much longer if an environmental change is not made. There is no better time than now to visit the parks. We need to foster an appreciation of nature in order to understand what is truly at stake with climate change.
In Peterman's words, "We live in a very urgent time right now and climate change is the current biggest threat to civilization." We can start by appreciating our natural surrounding more.