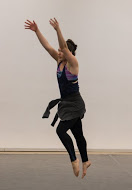 As college students, we spend twelve weeks per semester in any one class learning from the same person. Let me rephrase: that is two thousand and sixteen hours listening to one person's point of view on a given subject matter.
However, that is not the case for the Dance Repertory Performance class, which meets three hours every day. Though time consuming, the course is so unique that it is worth the commitment. Affectionately called Rep, students not only learn from the Bates instructor, but from guest choreographers brought in throughout the semester to work with students and take a one to two week residency at Bates. At the end of fall semester, students perform the pieces they learned at the Fall Dance Concert. Carol Dilley, the head of the Dance Department, describes Rep as "one of our most advanced and exciting classes in the Dance curriculum . . . [because] students engage in intensive choreographic processes with a variety of different artists."
So far artists such as Cathy Young, Dante Brown and Sara Juli have already guest-taught. These different artists bring fresh ideas to the dance community and force students to be adaptive and constantly interact with new ideas. Laura Pietropaoli '17 remarks "everyone in the room is in a perpetual state of discovering, changing and learning about how different people work in different ways." Adaptability is a necessary tool for a dancer because outside in the real world, they can be expected to seamlessly embody the expectations of the dance group or choreographer.
Personal growth for the student dancers is also a pivotal aspect of the program. Mary Anne Bodnar '16 remarks "artists tend to do a really good job of giving each of us personal feedback that makes us better dancers and community members." The personal facet of the program is also mirrored in the strength of the Bates community.
This class brings an extra layer of cohesion to its members, which allows them to grow and learn together as a unit. Bodnar states "during each residency there is always a simultaneous emphasis on building community, technique, performance quality, cast relations and a genuine sense of self-respect." Put those ingredients together and the end result is a dance company that is in tune to each other, thus making the performance more enjoyable for both the audience members and the dancers.
Rep is not exclusive to students who danced since they could walk. If a student shows enough interest in learning the craft, he or she can excel in this course. Brett Ranieri '16 picked up dancing his sophomore year in college. "[I] still look at myself as someone who is 'new to dance,' but the choreographers that I've been able to work with in this Rep class have a special quality of considering everyone's presence in the studio regardless of their previous skill level or experience," Ranieri said. This is a true luxury for an intensive class to contain.
This course is quite a success; students cannot seem to get enough. Both Bodnar and Pietropaoli participated in this class since their first year at Bates. For both of the performers, Rep is an essential part of their dancing experience. Pietropaoli notes "I'm not sure my experience in the arts at Bates would be the same if I did not continue taking this class each fall."
To have a class make such an integral difference is a quality that each of our courses here should strive to do.