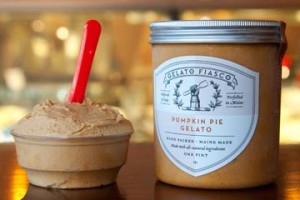 Mitch Newlin '16 is the guy behind Campus Gelato Delivery. Since his freshman year, the entrepreneurial economics major has supplied Bates with reduced-priced flavorful concoctions supplied from Brunswick's own Gelato Fiasco*. Newlin worked for the company for four and a half years as a high school student in Brunswick before using the gelato makers to supply his Bates delivery business.
"I was interested in being a small business owner," Newlin said—he decided to shadow co-owners Josh Davis and Bruno Tropeano. "[The owner] let me sit in on everything. A managerial meeting, an investment meeting," Newlin said.
Newlin worked his way up from scooper at the front counter, incrementally learning the management and investment strategies of the company until he worked full-time as the Brunswick store assistant manager during his gap year before Bates. He understands the gelato process, starting from the dairy farm to delicately transferring the ingredients from batch freezer to blast freezer, and finally to display case, making the product more flavorful and denser than ice cream.
"Right from the get go, I realized I liked what the company stood for and was doing, along with the product," Newlin said. That is why he wanted to help Gelato Fiasco, while making a few bucks on the side with his own project.
Newlin arrived at Bates and decided to utilize his new surroundings to help Gelato Fiasco get rid of extra product. Not all of the gelato is sold each day, often leaving a small amount in each container. "We were throwing out product at the end of the night," Newlin explained. "We had pans with 2 or 3 inches left. We didn't have extra freezer space."
At first Newlin looked to homeless shelters to take the gelato, but since Gelato Fiasco closes its doors at midnight, drop-off to a shelter would not be logical. So Newlin proposed buying the leftover gelato from the owners and selling it in half-pint containers to Bates Students at a price lower than wholesale. It was a win-win; Gelato Fiasco earned money from product they normally threw out and a whole new market was opened up.
He purchased his first freezer from Sears freshman year with his own funds upfront. It holds up to 180 half-pints of gelato at a time, which is good, because Newlin now sells between 100 to 200 containers a week, delivering the treat right to your door. At first he started small and did not promote his business. The only people who knew of the gelato had seen his freezer or saw him making his deliveries. His fridge is constantly changing.
"[Gelato Fiasco] makes over 1700 flavors, changed every week. Some standards, but things like apple cider donuts, we only make five times a year," Newlin said. Some flavors are standards in his refrigerator; Cookie Therapy, Sweet Resurgam (or "we will rise again" in Latin), Stracciatella, as well as candy bar flavors like Crunch bars. Seasonal flavors include Pumpkin Pie and Fall in Bourbon County.
Gelato Fiasco provides vegan flavors as well, further opening its clientele. "All of our sorbets are vegan," Newlin said. "Strawberry balsamic, raspberry truffle, dark chocolate noir are all dairy free and vegan." Many flavors include ingredients right from Maine's backyard.
However, a successful entrepreneur is no stranger to obstacles. "I didn't realize that there were so many barriers to having a business on a non-profit campus," Newlin said. "If you use campus services or resources to facilitate business, you are breaking official policy. So I am allowed to use my personal email, but not Bates lists. There are very interesting and weird dynamics."
Newlin ran into trouble his freshmen year by accidentally using the Bates lists to get the word out. With the threat of closure, Dean Steidel helped him understand the rules. Newlin adjusted, but made the argument: "how was I different than a Papa John's Delivery guy?"
The atmosphere has changed on campus. Businesses like The Burrito Guys and Den Delivery both use a similar platform as Newlin.
Mitch Newlin's resume of businesses continues to grow. This year, he serves as a campus representative for Downeast Cider, created by a Bates alum. He also hopes to test out his fridge buyback business again. Last fall, he spoke with seniors looking to get rid of their old fridges in the spring and make a little money. Newlin sold the fridges he purchased from seniors to first years this fall. He hopes to have an app by the end of this year and to expand to Colby, Bowdoin and other surrounding schools.
Newlin's heart still lies with Gelato Fiasco. He hopes to join them after graduation as they begin to expand further beyond the country.
*Bates Gelato Delivery is not Gelato Fiasco, but uses the Brunswick store as their gelato source.