The fall semester has proven to be exciting and filled with action for the Theater Department here at Bates. The variety of past and future productions ranges from an original "Nutcracker," a radio show to musicals. This past weekend was the debut of student directed one-act plays, while later in the semester "Melancholy Play" will open.
The one-acts consisted of four short plays directed by students here at Bates. Chaesong Kim '18 claims pride in taking charge of her one-act entitled "Overtones," written by Alice Gerstenberg. The play consists of four characters on stage – two women separated into their inner and outer selves. The inner selves are the "uneducated" personas while the outer selves are the "ladylike" characteristics. Kim commented, "On the surface level, the play is merely satirizing women's catfights; but on the deeper level, 'Overtones' is asking what the definition of 'ladylike' is, why the definition is what it is, who makes the definition and the legitimacy of the society imposing a certain set of rules on women."
Kim came to America wanting to be a director. After studying film and theater in Budapest this past Short Term, she came to terms with her passion for theater despite language and cultural barriers. "I thought participating in the one-act festival would be a great starting point of my theater career in Bates and, more importantly, in America," Kim said.
As for the play itself, many complications and struggles had potential to surface. Kim stated, "The actual struggle was on devising a way to make Alice and my message come through. It also had many possibilities of becoming confusing. Four people talking at once, doubling each other, was a challenge to organize, trying both to get everyone to be heard, but also to convey the sense of competition and struggle."
H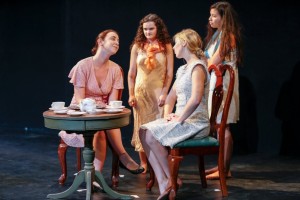 owever, the end result represented all the hard work and dedication both Kim and her cast put in to this adventure. She expressed, "It was great to have a solid time block to talk to four women about who we are, who we want to be, what society wants us to be, and the internal and external struggles we face as a result. It was a time to realize and experience the power art has, as well as myself as an artist."
"Melancholy Play" is directed by Sam Meyers '16 and written by Sarah Ruhl and will be performed Friday, November 13 at 8:30 p.m., Saturday, November 14 at 8:30 p.m., and Sunday, November 15 at 8:30 p.m. The cast and crew are composed of upperclassmen – talented actors, dancers and comedians.
While the show strays form reality, it is sure to entertain. Meyers mentioned, "The show is extraordinarily theatrical – people transform into objects, live music plays in the background, and characters tell each other exactly how they feel with no pretense." It is about a woman named Tilly, played by Allie Freed '16, who is extremely melancholy at the start of the play. Her character is attractive and mysterious, causing every character to fall in love with her. At a birthday party, she suddenly becomes happy, throwing her life into chaos.
Meyers commented on the process of directing saying, "The process thus far has been, in a word, exhilarating. I'm fortunate enough to be working with a cast of amazingly talented, thoughtful, creative actors who contribute so much insight during rehearsal. Everything about this project has been enormously collaborative from the very beginning and I've already seen the show develop and grow in ways I never could have predicted."
As with any productions, the every logistical and meticulous detail must be in place in order to make the show a success. "Collaborating with musicians and dancers and designers for this show has been super cool and exciting, but it also means that there are a million different moving parts that need to come together somehow," Meyers said. "It can be a real challenge to ensure that no element of the production is being neglected. I'm really pumped for Bates audiences to see this show — it's beautiful, poignant, and hilarious."
Ruhl, the playwright, avoids focusing on the subtext of the theater, thus her plays are always sincere. Producing a show that is poetic, totally earnest and over-the-top melodramatic has been "an exciting challenge," Meyers said. "Audiences will find that it's a show unlike any they've seen before."