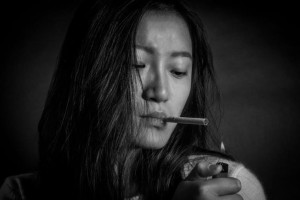 "Bates has fallen behind many of the other universities in Maine regarding tobacco policy," sophomore Reed Mszar said. Mszar, along with the Bates Public Health Initiative, 'Cats Against Cancer, and a variety of local and national organizations, is spearheading a campaign to change the Bates Smoking and Tobacco Policy as part of a National movement among colleges.
Bates has had the same policy since 2004. Currently, "Smoking, the burning of any type of pipe, cigar, cigarette or similar product, and chewing tobacco are prohibited in all campus buildings, including residence halls, and in all vehicles owned, leased or rented by the College. Smoking is also prohibited within 50 feet, approximately 20 paces, of all campus buildings, including residence halls," Mszar said.
In addition, the college offers smoking cessation support. Mszar said that this policy doesn't go far enough. There are 21 colleges in Maine. With the exception of Bates and Bowdoin, all are Smoke-Free.
Mszar sees the current policy as under-enforced and largely unknown to students. Policing the 50 foot boundary can be challenging and many students simply ignore it.
However, the initiative needs to cover a lot of uphill ground before it can be passed.
In a statement to The Student, Health Center officials said, "Bates College has a tradition of respecting individuals' rights and for many years has adopted a smoke-free policy… [to] reduce exposure to secondhand smoke. The Health Center educates students about healthy lifestyle choices and provides individualized support to students who wish to stop smoking in the form of behavior modification counseling, nicotine replacement, and medication."
Even students, faculty, and staff who do not smoke may not be supportive.
With the help of Healthy Androscoggin, the American Cancer Society, American Heart, Breathe Easy Coalition, and the Maine Public Health Association, the Bates Public Health Initiative and 'Cats Against Cancer hope to engage students in a broader discussion.
According to Mszar, as a first step, "we'd like to just get a discussion going." At the same time, the initiative will meet with the Administration on how to go about creating and implementing a new policy, hopefully before the end of the academic year.
The movement's kick off is tentatively set on November 19, set to coincide Great American Smokeout. The event is held annually on the third Thursday of November and encourages smokers to either make a plan to quit or quit on that day.
The two pronged approach of student education and discussion along with administrative policy will speed the movement along, according to Mszar. "Sooner is better," he said. "It's a matter of public health."
Meanwhile, students who do smoke should keep in mind the current policy and smoke 50 feet away from all buildings. Additionally, the Health Center offers confidential smoking cessation help.