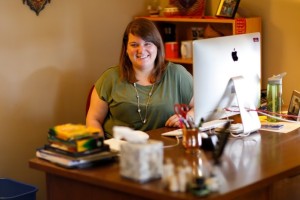 Multifaith Chaplain Brittany Longsdorf hopes to redefine the chaplaincy.
MAX HUANG/THE BATES STUDENT
To many, the words 'Multifaith Chaplain' trigger images of priests and stained glass windows; this is exactly what Bates' new Multifaith Chaplain, Brittany Longsdorf, hopes to change.
"I think the most difficult aspect of working in Chaplaincy, not just at Bates, but across the country, is working with and against the identity," Longsdorf said. "I think some people see the word 'chaplaincy' and think, 'Oh that's only for religious people.' And in some ways the chaplaincy is completely for religious and spiritual people, but it's also completely for anyone who has deep questions about life and meaning."
Longsdorf described her job as "a three-legged stool." The first leg is programming: "I want to create, and help our fellows create, and run really helpful programs for students to express their faith, explore devotion, explore spirituality, or just be and contemplate and breathe."
She's one of three confidential resources on campus, aside from the Health Center and Sexual Assault Victim's Advocate (SAVA). "I'm a place for students who are struggling with identity, struggling with some kind of trauma or grief, concerned about a friend, having family struggles, or just want someone conversational and confidential to talk to," Longsdorf said. She hopes to use the Chaplaincy as a platform to discuss many issues.
The final leg is "being present." As she participates in meetings, she seeks "to bring and advocate for the multifaith perspective," making sure all are represented in "whatever spirituality or non-spirituality they want to explore."
Longsdorf expressed high enthusiasm for her first year at Bates. "I just love it! I'm so happy to be here!" She laughingly admitted to her love for the fries at the Den, and more seriously, her appreciation of the Bates College Historic Quad. Walking among the trees, "not everyone's on their cell phones—people actually look in your face and say 'Hello' and smile, and I feel like that's no small thing. I feel like a lot of college campuses don't have that kind of warmth."
She also praised how Bates maintains its characteristic warmth in its academics, creating a collaborative environment. "I like that Bates is a place of a really high intellectual caliber, but without the pretention or competitiveness. I don't see students competing with each other. They're all so brilliant and bright, but they really support each other and the faculty really supports the students in that. I think
Longsdorf stated that this is her dream job, pointing out that this was a path she stepped onto, in some ways, at the age of twelve. Raised in Central Illinois, Longsdorf recalls her community as "pretty homogenous," comprised of mostly Catholics, except for her classmate Rashi. Rashi was Hindu and joined Longsdorf's class around the fifth grade.
One day, Longsdorf walked into the locker room to find Rashi cornered by a group of girls calling her names, telling her she would end up in Hell if she didn't convert. "I remember having just this emotion and this sense wash over me that this can't be right, this just can't be right," Longsdorf said.
She stood up for Rashi that day and began attending temple and taking her to Church. "We had this really beautiful interfaith friendship and exchange."
In many ways, Longsdorf is doing the same thing today as she did years ago with Rashi—opening doors of communication rather than isolating and creating conflict. Religion is "hard to explain and understand, so I think a way to begin that healing process and begin that understanding process is to create more communication, more community."
To that end, she encourages any student to come by. "I know we're tucked away up here in 163 Wood Street, but if you don't have anything spiritual or religious you want to talk about, we can talk about Harry Potter!"