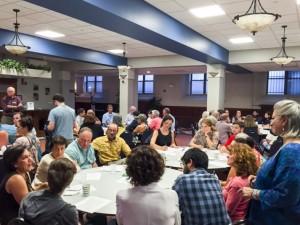 Grow L+A members discuss mill reconstruction.
MAX HUANG/THE BATES STUDENT
At a two-hour reception last Wednesday at the Franco-American Heritage Center, Grow L+A, a non-profit organization devoted to sustainable economic development in Lewiston and Auburn, hosted an energetic public forum explaining its recent efforts to redevelop the largest of the Bates mills in Downtown Lewiston. Although the stated focus of the event was soliciting feedback on Grow L+A's attempts to renovate the Mill into a food hub, the conversation developed into an open-ended opportunity for residents to voice their hopes and suggestions for economic development.
Grow L+A was founded in the Fall of 2012 to prevent the demolition of Bates Mill No. 5, the largest of the now-closed buildings in the Bates mill complex in Downtown Lewiston. The City of Lewiston had it slated for demolition in 2011 after 20 years of vacancy. However, local architect Gabrielle Russell began a grassroots movement to save it. She convinced the Lewiston City Council to halt the demolition and sell the Mill to Tom Platz, a successful local developer who also redeveloped Bates Mill No. 2, where Baxter Brewing and Davinci's restaurant are located. Since then, Grow L+A has worked to procure tenants and provide innovative suggestions for the Mill's use.
The purpose of Thursday night's forum was ostensibly to provide feedback on the "Karp Report," a feasibility study that Grow L+A commissioned on the possibility of turning space in Mill No. 5 into a food hub, a regional coordination and distribution center for locally sourced food. Grow L+A has been interested in using Mill No. 5 as a way to provide sustainable local food to Downtown Lewiston, which lacks a supermarket, ever since the non-profit's inception. The group's earliest proposals for Mill No. 5—used to forestall the City's demolition plans—envisioned an indoor farming project.
Shanna Cox, Grow L+A's ebullient president, thanked attendees for committing to "two hours immersed in civic engagement with us," and provided a brief overview of Grow L+A's history and the status of Mill No. 5's development. According to Cox, the Mill already has a number of committed tenants, including a health and wellness center and a childcare center. Cox then informed attendees about the Karp Report's findings: the report found that due to local issues of supply and demand, a food hub in the mill would not be possible. However, it did recommend Grow L+A pursue smaller food-related projects. As a result, Grow L+A wanted to hear the community's input on what the next steps should be: "We want to hear from you—your vision and your voice!" Cox said.
After Cox's opening remarks, the room was divided by tables into smaller discussion groups, each facilitated by a Grow L+A board member. Each table was asked to brainstorm suggestions, comments, and concerns about food access downtown, as well as Mill No. 5's direction in general.
The group brainstorming sessions were lively; suggestions for the use of Mill No. 5's remaining space included a grocery store, a community kitchen, an incubator for organic food businesses, a youth center, and even an indoor water park. Many attendees also suggested Grow L+A focus more on educating the community about its work, as many of the attendees admitted they knew little about food hubs or Mill No. 5's, status before the meeting. Julia Harper, Grow L+A's Vice President, informed the group that this forum was just the first part of a planned expansion of Grow L+A's public outreach efforts.
In attendance was a who's who of Lewiston and Auburn civic life: Matt Leonard, head of the Androscoggin County Chamber of Commerce, Lewiston Economic Development director Lincoln Jeffers, city councilors and state representatives, non-profit executives, grassroots activists, and Bates College professors and administrators. The crowd also included many ordinary residents coming straight from work and school to learn about the project, along with a handful of Bates College students. Attendees used the event as a networking opportunity to connect with other civically active residents.
Attendees and Grow L+A board members were excited about the high attendance and multitude of suggestions. Peter Rubins, a Grow L+A board member, excitedly spoke of the event as a new beginning for the organization: "It's all clay right now—tonight is a molding process."
Residents who had never heard of Grow L+A's work before left feeling like their voices were heard. Grace Boueri '16, one of the Bates students at the event, was happy to have the chance to contribute to Grow L+A's planning process. "It's exciting to be part of a forum with focus groups, where my voice will be heard at a higher level."
Grow L+A's board members encouraged anyone interested in their work to attend a planning meeting (listed on the website growla.org) or to send an email to info@growla.org.
This article was edited to accurately represent Grow L+A's title.