On January 30, 2015, Gregory Vincent, commonly known across the Bates campus as "Vinny," retired from his position as Supervisor of Student and Campus Mail at the Package Center.
After speaking with his three children Sarah, Adam and Justin and his wife Doris, they collectively decided that it was time for him to retire early.
Vinny uploaded the following post to his Facebook page on January 31: "It was a very hard decision, but one I had to make. For over 6 years God blessed me with the Bates students that worked for me and the thousands I served! The stories, situations, laughs, lifelong friendships, and sad moments was all worth it!" The post received 109 "likes."
Vinny would share stories when he was young and how much snow there was and how cold it was back then, or when he would visit the Bates Malt Shoppe, which is currently the Security Office.
"After a year and half in the mailroom I have seen that Vinny embodies what Bates is and the ideals that this intuition was founded upon. Vinny does not have a degree, but is a self-made and hardworking man that had found a place at Bates where he thrived," sophomore Package Center employee Gina Ciobanu said.
A Lewiston resident since birth, Vinny grew up on Russell Street from ages 8 to 18 when Bates only consisted of 750 students. There was such little traffic that he and his friends were able to play baseball in the middle of the road.
When Vinny was a junior at Lewiston High School, he was asked to be the in drummer in a rock band on Bates campus called the Quick and the Dead for two years. He remembers one special time he playing for a protest for co-ed dorms in 1968. He stated that the protest was controversial but peaceful.
"Lewiston was the mecca in the state of Maine for all kinds of music in the 60s. There were 75 music groups who played and made good money… There was music galore," Vinny said.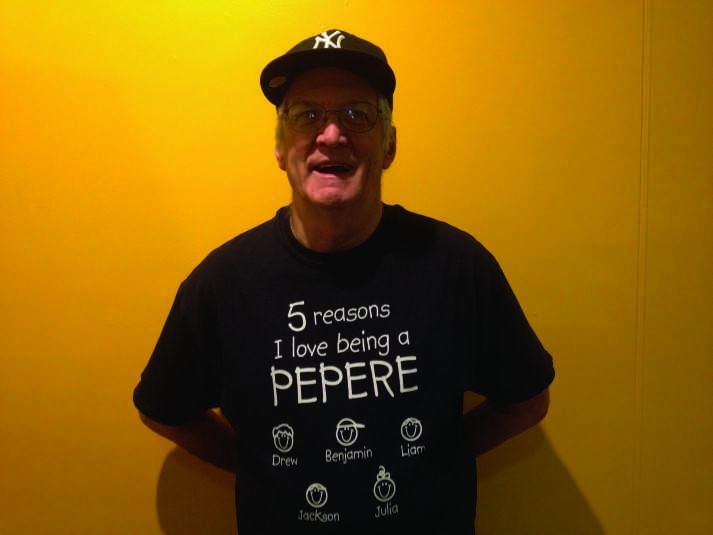 In February of 1968, Vinny saw Jimi Hendrix live with his wife at the Lewiston Armory, which is in walking distance of campus. Vinny recalled, "We bought two tickets for $1.75 each; were 20 feet away. That was a marvelous night. It was a real thrill. It was a packed house. Tickets sold out within the first hour."
Growing up in Lewiston, Vinny had his first job delivering newspapers in the fifth grade, and worked different jobs throughout middle school and high school. He felt that these jobs gave him the ability to interact with adults in the workplace.
"In the culture we were brought up in, we learned to fend for ourselves and we learned to work early. Basically you got was what you earned. If I wanted a bike, I bought my bike. If I wanted my clothes, I bought my clothes. That's how it was in the Lewiston-Auburn area. The work ethic was very, very strong. A lot of people would make their children work regardless of their income," said Vinny. Vinny displayed those hard working value here at Bates.
Before working at the Package Center, Vinny worked at L.L. Bean until he retired at age 57. While working there he developed a strong work ethic, for in any given day he would have a number of different tasks to perform such as operating a forklift and answering phone calls.
Vinny was very selective in choosing his Package Center workers, only hiring those who were hard workers and could work effectively as a team. Some of his interviews lasted for more than two and a half hours, for he wanted to be certain that his employees were right for the job. He looked for students who were responsible and reliable.
"This is a fast moving job where you have fun," Vinny elaborated. "I took the people who most resemble me, my tough parameters, and we went from there. It's a long process to be an employee. If I'm interviewing you, I want to know what makes you tick, and I want to know where your heart is. You can put all you want on the resume—I want to know what moves you."
Furthermore, Vinny highly valued employees who did volunteer work. To him, a volunteer is a giver, and a giver is someone who fits his criteria to be an employee, for he views himself as a giver.
"My mission is that I'm a giver. I hope by giving and showing how to make people happy that it wears off. I just like to see people smiling and having a good time," said Vinny.
Some of Vinny's favorite memories from working at the Package Center were hearing his employees share stories about their lives. One of his favorites was of student from Nepal who lives 75 miles away from Mount Everest, and thought nothing of it. However, he was thrilled after hiking Mount Washington.
"I enjoyed my time with the students. I think the students gave me more than what I gave them. Students give me gifts of where they're from, gifts of telling me about themselves, sharing who they are," Vinny said.
Vinny noted that aside from working with his student employees at the Package Center, the biggest thrill he's had at Bates was giving Baccalaureate speech with his wife in 2011. "That was my finest hour," said Vinny.
"Vinny would always brighten my day with his smile and trivia question for the day. I know much more about pitching statistics and the Civil War than I know what to do with, but as the topics come up they serve as quiet reminders of a great boss I had the privilege of working for," Ciobanu said.
Vinny served as not only a boss for many students, but also as a mentor and will truly be missed.