Tarbell Pool was the site of a precursory meet this past Saturday, before the looming NESCAC Swimming Championships coming over the next two weeks for the men's and women's swim teams. The meet might have been low key, but the performances from the Bates squads were high quality.
In a meet that featured Bates, the Bowdoin men, and teams from University of New England, and St. Joseph's, the Bobcats set a slew of records, tallying a total of 10 new best times.  This type of boost is exactly what the team needed in their final meet before conference championships.
"The team put their fast skins and racing faces on and brought their A-game on Saturday. We had National B cuts and we're not even at our conference meet yet. People swam some fast events and it was really exciting to see," said first-year Hope Logan.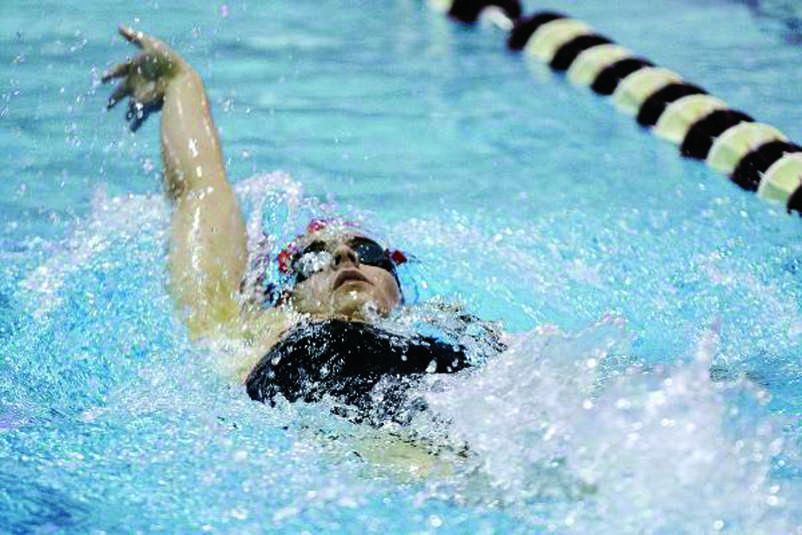 One of these National B cuts was the women's 800 free relay, which established a new pool record with a time of 7:37.00. On the men's side, a pool record was broken twice in the same day. Senior Andrew Briggs set a new pool record of 58.13 in the 100 breaststroke, breaking the record of 58.75 established earlier in the meet by sophomore Dan Walpole. Asked if she had ever seen this many records fall in one meet, Logan responded "Of course not! I'm a first-year so the meet was the most exciting and fastest one yet this season. It was a really great low pressure situation where everyone got to swim fast and see what times they could throw down."
As the teams look forward to the most critical stage of their season with the NESCAC Championship meet approaching, they are trying to stay calm and focused.
"We've got a 'no biggie' attitude, because this week can be stressful with school and swimming heating up. However, the whole team is beyond excited and pumped to race," said Logan. "We have high expectations of what is going to happen at NESCACs. The whole team is gearing up because this is the meet we've been training for."
The women travel to Wesleyan this weekend in search of a conference championship, while the men will prepare for an extra week before travelling to Middlebury for their own chance at glory. If the competitive edge demonstrated this past weekend at a relaxed meet is any indicator, the Bobcats will be ready to maximize their potential in the coming weeks.