The Bates men's basketball team took down Tufts 64-51 on Saturday in front of a boisterous home crowd at Alumni Gymnasium boosted by the extra bleachers on the stage behind the basket. The win raised the Bobcats' record to 12-4 overall, and brought their conference performance to 2-2. With Bates nursing a slim one-point lead with just under fourteen minutes remaining, senior Graham Stafford took over the game and led the team to their final thirteen-point margin of victory. The Bobcats next play at St. Joseph's on Tuesday and then finish the month with home games against Wesleyan and Connecticut College over the weekend.
Heading into the contest, the Bobcats were determined to avenge last year's devastating four-point loss, and walking onto the court to a tremendous ovation really set an emotional tone that lasted throughout. With all the excitement and support from the Bates fans, the Jumbos knew they had to fight an uphill battle. Feeding off the energetic crowd, the team played excellent defense, holding the Jumbos to season-low of only 51 points.
The Bobcats played with the kind of energy that put constant pressure on the visitors. After the loss, freshman Tufts starter Thomas Lapham stated, "We knew it was going to be a tough game going into it, especially in their gym with that crowd. They outplayed us on offense and defense and were the better team that day."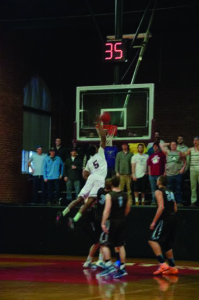 After senior Billy Selmon's impressive dunk in the second half, the crowd erupted with excitement. As freshman spectator Christina Olali put it, "I had every intention of reading for my philosophy class, but after Billy's dunk, Tolstoy had to be put away."
Junior Mike Boornazian led the Bobcats in scoring with 20 points, including two three-point shots in the second half that pulled the Bobcats into a one-point lead. Although the three-pointer can either shoot you into or out of a game, on this night it worked to near perfection.
When asked his opinion of the game, Boornazian commented, "I think it was a great performance. We were able to get back into our transition offense and really lock up on the defensive end. Any time you can do that and get some easy baskets it's great, because everyone starts feeling good, and having the crowd around you is just incredible."
In the cold, dead, dark of winter, the snow falling outside was definitely no match for the heat inside Alumni Gym. As the buzz from this performance travels through campus, the team expects more overflow crowds and epic performances. This victory could be the start of something special for Bates men's basketball.