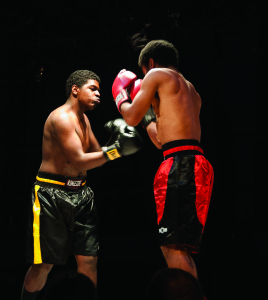 Directed by Jonathan Schwolsky '15 in partial fulfillment of his senior thesis, Boxing 2000 ran for three days with a cast of nine people–eight men and one woman.
Written by Richard Maxwell, this production calls for acting that "works best when done as bare-bones as possible," according to director Jonathan Schwolsky. This acting style was very out of the ordinary for many of the actors participating in this show. Colby Harrison '17 played the Promoter and had to deliver a challenging philosophical monologue mid-way through the show. "The monologue in particular was the hardest one for me and eventually became my favorite monologue of the show. [It] very clearly shows Maxwell's style of language," said Harrison.
The set design was very simple but well executed. The show was performed on an elevated stage representing the boxing ring. The audience members surrounded each side of the stage, allowing each viewer to have a different vantage point and perspective. Performing this piece in the round is demonstrative of the experimental theater that Schwolsky was aiming for.
For Audrey Burns '17, the only woman in the cast, "the most difficult part was performing in the round. Once I moved through the adjustment period I started to love [it] because of how it affected the entire experience of the show, both [for] an actor and audience member."
The lighting in this production was extremely dynamic and detailed. The scene in which Brennen Malone '17 and Will Dunbar '15 engage in a boxing fight was beautifully lit. The projections illuminated their bodies and created a shadow story on the wall. The shadows punched at each other while their real human forms were on opposite sides of the ring simply punching at air. This artistic decision was an interesting choice but a successful one, demonstrating the close attention to detail the director took.
For taking such an abstract piece, Schwolsky delivered a success for his senior thesis in directing. The acting, set, and lighting of this show were all very different from the theater productions Bates has seen in the past few years. While it ran for only fifty minutes, Boxing 2000 was rife with detail and intellect. Schwolsky should be proud of the dare he took with this challenging piece.