The fact that captain Alayna Garbarino was the sole senior honored for the Bates softball team prior to their season finale against Bowdoin on Sunday tells you just how little experience this squad has compared to their NESCAC opposition. Still, the young Bobcats, who finished the year with an 8-20 record, learned plenty this season about what it takes win games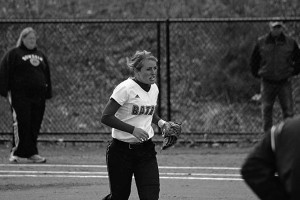 One obvious winning ingredient for any team is good pitching. The Bobcats' two primary pitchers this year were juniors Brenna Callahan and Kelsey Freedman, who has a penchant for striking out hitters. In the second game of a doubleheader sweep over Maine Maritime on April 21st, Freedman broke Bates records for strikeouts in a game, season, and career. She commented, "It was a personal goal for me from day one to break the season strikeout record because I was so close last year, but I had no idea that I would be able to break all of those…never mind in one day." Rather than relying on one pitch, Freedman believes that, "Keeping the hitters off balance and guessing is what really makes for an effective pitching performance against any team." If Freedman can be dominant again in her senior year, it would be a massive boost for the Bobcats.
One promising young player the Bobcats will look to in the years to come is freshman Maddie Inlow, who played in every game. Inlow played multiple positions this year, and said, "I feel as though I have improved my understanding of the game through this and have learned to do my job for the team." She stated that she's realized she needs to focus on the intricacies of her game as well as improving her skills at the variety of position she might be asked to play.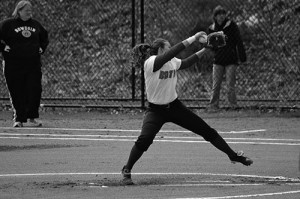 Freedman echoed these sentiments, commenting, "The offseason is really the time to improve on the fundamentals and create a good team culture." A key to that team dynamic next year will be transitioning a large group of incoming freshman to the college level. This year, a major adjustment for the Bobcats was playing for new head coach McKell Barnes, which involved certain players moving to different positions and adopting unfamiliar roles for the team. But Freedman believes that strong team chemistry helped the Bobcats make these moves with minimal friction.
Next year, solid production from the freshmen would be a welcome addition to the bats already in the Bobcat lineup. Sophomore Karen Lockhart led the team with a .330 average, while juniors Kira Shaikh and Freedman also hit over .300. The team collectively improved from their early defensive struggles, although their season ending .940 fielding percentage is below what they'd like it to be next season. Still, the sense from this young team is that their improvement throughout this year is indicative of a brighter future. According to Inlow, "We have grown so much over this season and I know we will continue to grow over the next few years."