Spring Break 2014 hits Bates College, and as the majority of the student body left for home to relax and decompress, the Bobcat rowing team got on their proverbial grind, racing twice over break, and again this past weekend at the Presidents Cup.
First-year coxswain Kate Traquina cogently described the teams break, saying "We slept, ate, and rowed."  Fellow first-year rower Adam Rintell had more to say on the dynamics of break for the team.  "While it was frustrating we couldn't get on the water because of the weather, it was great to improve team chemistry."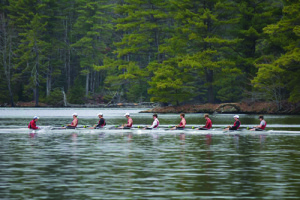 This time of year, most Batesies are able to hangout, relax, and enjoy all that Maine has to offer, but our rowers find themselves in the full-swing of a challenging race schedule as their spring season gets underway.  Over break the men and women traveled to Worcester Massachusetts, finishing with scores of 6-2 and 9-2 respectively.  They both concluded their breaks competing again in Massachusetts, the men finishing with an 8-1 score at the Greater Boston Invitational on the Merrimack river, and the women tallied a 5-1 finish on the Charles in Boston.
This past weekend Bates hosted the President's Cup, a competition between Bates Colby and Bowdoin, as well as the Bates Invitational which included more teams from the greater New-England area, on the Androscoggin River.  The Scog provided just the home-river advantage our Bobcats needed, propelling the men and women to collective team victories in both the cup and the invitational.  "We were very pleased with our successes at the race last weekend, even amidst rain and heavy winds"  said First-year rower Elise Emil.  "We hope to take this speed into our upcoming Championships.  It was also great seeing so much support from the Bates community at our regatta."
The team travels back to Worcester this weekend to compete in the New-England rowing championships.