Bates squash concluded a successful NESCAC season this weekend with 2nd and 3rd place finishes in the conference tournament by the women and men respectively.
For the women, 2nd place was their best finish ever in the seven-year history of the NESCAC Squash Championship. Junior Nessrine Ariffin, the team's top seed, was pleased with the team's performance, commenting, "There have been ups and downs throughout the season, but everyone did well this past weekend." To reach the finals (in which they were beaten by perennial powerhouse Trinity, 9-0), Bates defeated Bowdoin in the quarterfinals and Williams in the semifinals on Saturday, winning both matches by a score of 7-2.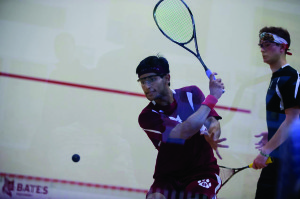 The Bobcats' second seed, junior Myriam Kelly, won each of her matches in straight sets. Kelly attributes much of the team's success this year to their attitude, stating, "I've noticed an increase in the amount of work put in before and during the season, as well as on and off the court." Senior captain Rakey Drammeh also feels the team's dedication has played a major role in their impressive season, noting, "We have worked extremely hard to get to where we are now and I am very happy with our accomplishments."
With just the Division III Individual Championships and College Squash Association team championships to go, Drammeh reflected positively on her time at Bates: "Looking back at my squash career at Bates, I couldn't be happier with the progress not only I have made, but that my team has made as well." If the Bobcat women can continue to excel in the coming weeks on the national stage, it would be the ideal conclusion to a breakthrough season.
The Bates men have also had a strong season overall so far, although their 5-4 loss in the NESCAC semifinals to Williams was definitely disappointing. Sophomore Ahmed Abdel Khalek has been their standout performer, with an astounding 13-0 individual record. Though Abdel Khalek is proud of his play, he stressed that "me playing well does not mean anything if we as a team do not win." He knows, however, that the team can gain nothing positive from sulking over the loss to Williams.
Freshman Darrius Campbell, who won both his quarterfinal and semifinal matches as the number seven seed, said, "I was upset at first that we lost to Williams because we worked so hard to beat them before [6-3 on January 11th], but now I have come to terms with it. I think the team including myself just has to work harder and believe that we can win any match, because we can!" Campbell, who emerged this year as a reliable, diligent player, is one of the reasons Ahmed Khalek maintains that, as long as they believe in themselves "This team has the potential to beat the best teams in the nation."
Although they'll lose senior captain Kristian Muldoon after this season, young players like freshman Ahmed Sherif Hatata (the number two seed) and Caran Arora at number six will be major contributors for the Bobcats next year. Still, the Bates men, just like their women counterparts, are determined to finish their season the right way in the individual and team championships in the coming weeks.