Although the Bobcats battled back valiantly in the second halves of both games, the men's basketball team lost at Wesleyan on Friday and at Connecticut College on Saturday. Sophomore guard Mike Boornazian starred this weekend, scoring a total of 61 points, including 39 against Connecticut College, which is the most by a Bates player in 11 years.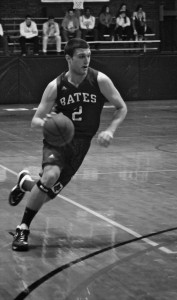 With Boornazian playing at such a high level, the Bobcats feel confident that they can finish the regular season strong provided they play as tough as they have so far when tasked with seemingly insurmountable deficits.
Against Wesleyan, the Bobcats were somehow able to force overtime despite trailing by 58-44 with four minutes to play thanks to clutch plays from Boornazian and junior Adam Philpott that embodied a spirited team effort. Though Wesleyan outplayed Bates in overtime to win 76-70, Boornazian believes the furious comeback "shows our resiliency and our ability to come back from any deficit. If we can learn how to come out strong, combined with our natural talent, we are going to be difficult to play with."
Senior guard Luke Matarazzo conveyed some of his frustrations with the Bobcats' slow starts, noting that they've been able to give themselves a chance to win despite "miscommunicating on defense and missing some easy shots on offense" early in games.
Along with the massive holes they've been tasked with digging themselves out of, the Bobcats have also been challenged by the grueling nature of NESCAC road games.  The team is in the midst of a five game stretch on the road that won't conclude until Bowdoin visits Bates on February 14th. The sheer quantity and uncomfortable atmosphere of these games is undeniably difficult. Still, Boornazian feels that, "Traveling is obviously tough, especially this late in the season, but we're all tough kids and will be ready to go."
Unfortunately, the Bobcats again did not appear fully prepared in the opening half against Connecticut College on Saturday. Largely due to Boornazian's impeccable shooting, Bates managed to stay competitive throughout despite trailing by 18 at the half, but it was again a case of too little too late in the 84-77 defeat. The loss dropped the team to 10-9 on the year, 1-5 in the NESCAC with four conference game remaining. Nevertheless, everyone on the squad recognizes their potential, and is intent on persevering to finish the regular season well.
While junior Billy Selmon says that he's sure that the Bobcats will respond to the recent adversity, as he "feels like we are the best team in the conference when our backs are against the wall," Matarazzo is keen on ending his senior season the right way. He believes that, "We just need to keep coming to practice with an optimistic and positive attitude eager to work and get better-there is plenty of season left. I have nothing but confidence in this group of guys."
The 'Cats play their next game at Williams this coming Friday.