Bates women's basketball fell to 7-10 after suffering their fifth straight loss at #6 Tufts by a score of 62-46. However, the Bobcats are encouraged by their second half performance, in which they managed to outscore the Jumbos 34-30 after a shaky opening half. Senior Meredith Kelly, who led the team with 16 points and recently had her name added to the prestigious list of 1,000 point scorers in Alumni Gymnasium, commented, "That was the best defense we have played so far this year, so it really just shows our potential. We kept fighting down to the last minute, so even though the score wasn't what we wanted, we still are proud of how
we played."
Another positive for the Bobcats has been the emergence of their freshmen, including Allie Coppola, who received her first career start against Tufts.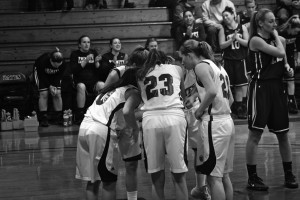 "The freshmen are getting a lot of minutes and a lot of experience as the season is going on, and it's really evident how much they're improving," noted Kelly. With Coppola's determined mentality and diligent work ethic, her impressive play is not a major surprise. She says that, "Everyday I find something new that I want to improve upon." That attention to detail is also evident in her belief that "we need to bring that same level of play [as in the second half against Tufts] to every minute of the rest of our games and practices."
Despite an outstanding attitude, the Bobcats face several practical challenges. For one, their offense has often struggled to get a wide distribution of scoring, with Kelly is averaging 22.3 points per game and junior Allaina Murphy the next highest scorer at 10.4 ppg. Yet Kelly states, "I don't feel like I have any burden on me really. It's a team game and everyone's role is important. When we have all 5 players on the court on the same page we play really great basketball." This elusive continuity Kelly refers to will also be key in improving the Bobcats defense, which is another broad area they hope to achieve greater consistency in.
Along with the long-term goals of qualifying for the NESCAC tournament and improving these various facets of their team, the Bobcats have high hopes for beyond this season. Even though they'll lose Kelly and fellow senior Julia Rafferty, Coppola and fellow freshmen Bernadette Connors and Kate Moody should step into larger roles, along with other key underclassmen like sophomore Chelsea Nason.
Coppola believes that Rafferty and Kelly will have an enduring influence, stating "Meredith and Julia have taught us so much and made us all better, and I think we will be able to carry that with us into next season." Hopefully Bates will also be able to keep building on their strong second half against Tufts to build momentum in the latter stages of this season. The Bobcats' next encounter is at 7:00 PM on Wednesday night at Alumni Gymnasium versus St. Joseph's (Maine).