The Bates Student: What's your name? Where are you from? What are you majoring in?
Ivan Reese: My name is Ivan Reese. I'm from Savannah, GA and I want to major in Politics and minor in Anthropology.
BS: What is your fashion sense?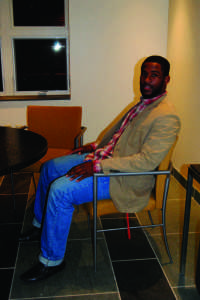 IR: I think that my fashion sense is simple. But I add just enough flair. I tend to shop at H&M, Ralph Lauren outlets, Dillard's, and Hollister.
BS: Where is your outfit from?
IR: My button-down shirt is from Abercrombie & Fitch. The cotton blazer is from Burlington Coat Factory. My shoes are from Sebago and my jeans are 505 Levi's. Lastly, my watch is actually a 6th generation iPod Nano. People always assume it's a watch until I press the lock button and an Apple music logo appears. So then I have to explain how it's actually an iPod that resembles a watch.
BS: What are your biggest style inspirations?
IR: I'd have to say my biggest style influences are the clothes on mannequin display in Dillard's. That where I get a lot of new ideas on what I could wear.
BS: What are the winter staples in your closet?
IR: Many athletic sweaters and jackets, long-sleeve t-shirts, and Nike ACG boots.
BS: What is your most favorite purchase for the back-to-school season?
IR:  My most favorite purchase is my North Face orange jacket and Boulder Peruvian beanie. Coming from the South, I feel like I might freeze up here without my orange jacket, and the ear-flaps on my beanie are clutch.
BS: Do you have any thoughts on how your style evolves over the semester?
IR: I found myself wearing more warm clothes sooner than expected. I knew a point would come where I'd be bundled up because of freezing temperatures, but I didn't see it happening in the first two months of the semester. It was October and I already had to pull out the jacket and scarf.