This week, I had the pleasure of interviewing the Managing Arts & Leisure Editor for The Bates Student, Michelle Pham '15 from Vancouver. She resides in 280, where she has lived for the past two years, with her roommate Rokya Samake '15 of Harlem. Samake's side exudes an all-blue vibe with blue bedspreads and blue pillows. By contrast Pham's side of the room is nothing short of a girl's paradise, containing every shade of pink imaginable.
From her multi-patterned bedspread and hand-woven rugs, to her hot pink towels and throw pillows, pink has taken over her side of the room. The girly paradise continues to her desk, dresser, and closet, where one can find many gorgeous pieces of statement jewelry and unique headbands. Her collection of bright jewelry and stand-out head pieces are essentially the decorations for her dresser and desk, and do a great job keeping them looking festive and fun.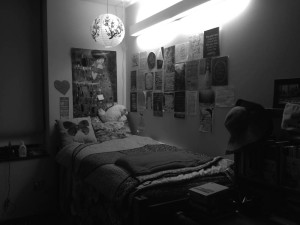 The quilt and rugs were purchased from Urban Outfitters, a store Pham discovered at Harvard Square upon moving to the United States. As for her array of throw pillows – all were found on global escapades.
One of her suede pillows was purchased in Italy, and the others were found through various walking adventures in Maine and abroad.
They are all different and add to the colorful and whimsical sense her room gives off.
As for her wall art, Pham has taken a different approach than what I have seen in most other rooms. Instead of a variety of posters, Pham has hung up printouts of her favorite quotes that she found on sites such as Pinterest and Tumblr. She explained that she chose thoughts that were inspiring and comforting to think about, not only for her, but for all the friends who visit her room. According to Michelle, she was extremely relaxed with her wall décor and room this year (she is going abroad in a few weeks to London), but it is clear that she took lots of time to print out and arrange the many quotes she has covering her wall.
Usually, Pham explains, she puts days into decorating her room with a vast array of collected posters, drawings, original prints and flowery hanging ceiling décor from Martha Stewart.
This year, though, Pham has two posters hung up that are very romantic and beautiful – a Gustav Klimt print and the War's End Kiss photograph. Since she was leaving after a semester, she didn't want to have to disassemble too much furniture or wall art during the moving period. She also hung up one piece of ceiling art; a printed paper lamp she purchased from Amazon. She feels she definitely took a low-key approach to room décor this semester, but her room still looks very fun and put together. Pham's room, girly and exciting, appears to set a very uplifting mood to live in.