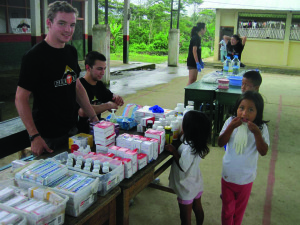 Still searching for a rewarding summer experience? Consider Medicine, Education and Development to Low Income Families Everywhere (MEDLIFE) – a non-profit organization devoted to providing low-income communities in Latin America with better access to medicine, education, and community development initiatives. For several years, Bates students have spent their summers with MEDLIFE. This summer, you could be one of them.
In 2005, Nick Ellis of the University of Maine founded MEDLIFE. Today, MEDLIFE has chapters at 48 universities and colleges across the world. Currently, Bates' chapter is lead by Logan Greenblatt '14.
"[Ellis] decided to make a difference. I have seen what he has seen; it is time to help others. For my whole life I feel I have had things handed to me. It isn't fair that people have to live in these kinds of situations. By bringing MEDLIFE to Bates I can share my experiences and hopefully get other students on the train and do what we should do, help," said Greenblatt.
Greenblatt has already succeeded in inspiring several Bates students to join MEDLIFE including Patrick Tolosky '15 and Alex Millstrom '15. Last July, Tolosky and Millstrom traveled to Tena, Ecuador to volunteer in a MEDLIFE mobile clinic.
"For me it was really special, since I speak Spanish well enough to converse quite thoroughly, so I was able to speak directly with the families that we were helping. I even got to perform some physical examinations of children when large families came in to see the doctor I was working with, and, I helped diagnose them with some parasites and other illnesses. That was the coolest part for me, since if I had not been paying attention, or hastily went through the examination, these kids would not have received the care they needed, so my actions were having an immediate effect on these kids and I could see that my presence was doing good right in front of my eyes. I have been very moved by my trip to Tena, and I hope in the future that I can do more trips to come," said Tolosky.
As Tolosky acknowledges, MEDLIFE is a worthwhile cause for any Bates student. It aims to accomplish three fundamental goals. First, MEDLIFE strives to provide easier access to healthcare in these communities via mobile clinics (in which local and foreign volunteers work together to provide the most efficient care to families).
"Every day of the trip, the volunteer group will travel to a different community, set up camp, and from about 8 or 9 in the morning until about 3 or 4 in the afternoon, the group can see anywhere from a couple dozen to a couple hundred individuals. There are different stations that the families will see, including an education station, teaching kids to brush their teeth, seeing a general care physician, a gynecologist, a dentist, and then receiving their needed medications and given instructions at the mobile pharmacy. The system is well structured, and works quite efficiently," explained Tolosky.
MEDLIFE also emphasizes education. The organization cites lack of basic healthcare knowledge as a major problem in these communities. MEDLIFE aims to address this problem by offering educational presentations in each community it helps.
Lastly, MEDLIFE conducts enduring projects in each community.
"Whether it is a set of latrines to prevent contamination of food or water, or building a set of stairs in a highly traversed area so that people do not fall an injure themselves, these projects look to prevent injury or illness before they can happen," said Tolosky.
This semester, students have been working on a constitution in the hope to become a formally recognized student group on campus. Their goals are to spread awareness about the many families in need of assistance in Latin America, and to encourage other students to partner with MEDLIFE.
Currently, about a dozen Bates students have expressed interest in joining the MEDLIFE movement this summer. The group is planning to travel to Riobamba, Ecuador to volunteer in a mobile clinic from June 8th through June 16th.
"Each individual person is so important in the effort to help these families in need, the trips will truly change how you see your own life, along with those of the families who are not as fortunate as us, and to be honest, the trips are extremely fun. It is a stress free, happy environment, working with great people to accomplish a meaningful task that will directly help these families. I don't know why someone wouldn't want to go," said Tolosky.
Interested in the cause? There is still time to sign-up to work in a MEDLIFE mobile clinic this summer. The deadline to pay the $100 deposit for the trip is estimated to fall in early or mid-April. Email Tolosky (ptolosky@bates.edu) with any questions about the organization or the upcoming trip. Consider giving back this summer.