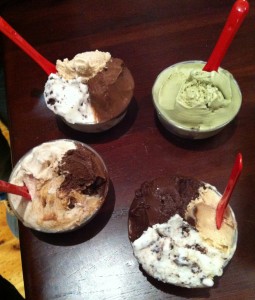 Punch "best restaurants in Brunswick" into the Google search box and one of the first options that flashes before your eyes is Frontier, a sleek, socializing-oriented restaurant and bar representing a plethora of world cultures.
Part of Frontier's motto is "Go Beyond," which refers to the founder's mission to create "a destination where people could gather to enjoy and explore food, film, music, and art inspired by the world," according to the Frontier website. Michael Gilroy, the founder of Brunswick's restaurant-meets-art-space, was inspired to make his business "reminiscent of a traveler's crossroads" after his own travels as an expedition leader in several world countries.
Like Frontier's culturally dynamic environment, its menu is nicely varied. In accordance with the theme of travelling and crossroads, it encompasses numerous world cuisines, including Italian, French, Mediterranean, Indian, Spanish, and upscale American fare. Meats such as Jamaican jerk chicken, German bratwurst, and Thai ginger chicken also populate the menu, and General Tso represents China in a vegetarian tofu dish.
Vegetarian and vegans are, in fact, well taken care of at Frontier. Don't be fooled by the small number of entrees under "Vegetarian and Vegan;" even though there are only four dishes listed here, entrees for herbivores are scattered throughout the whole menu. These range from fish instead of chicken tacos for pescatarians to full-on vegetarian soups, salads, sandwiches, and "MarketPlates."
MarketPlates are Frontier's homage to open food markets around the world, each plate representing one country with various small bites of meats, cheeses, and bread and spread combinations. For example, the French MarketPlate boasts a baguette spread with grainy mustard accompanied by Brie, ham a la French style, and other treats for Francophiles. The Middle Eastern MarketPlate, by contrast, brings together falafel, feta cheese, red pepper hummus, and tzatziki sauce on grilled pita bread, catering to the vegetarian crowd.
Gluten-free dishes are denoted on the menu as well. All of Frontier's delicious sandwich, wrap, and burger options can be made on gluten-free bread, and even non-celiacs are presented with several enticing bread choices.
The Frontier Burger is "scrumdiddlyumptious," raves first-year Bailey Stonecipher, who ordered the house burger that came with fancy hand-cut fries.
First-year Hannah Gottlieb had a similar response to her mozzarella, tomato, and spinach sandwich, which on a surface of pesto-covered grilled naan bread becomes the most superior sandwich in the world.
"My meal was delicious. It was great to get off campus and go to a restaurant where I could enjoy some amazing food in a relaxed atmosphere with friends," Gottlieb gushed.
The plate of chicken tacos, when it arrived steaming-hot at the table, also proved superior to tacos at most restaurants. Three blue corn hard taco shells wrapped Jamaican jerk chicken and lettuce inside them like a culinary present, and the accompaniments of spicy mango salsa and sweet onions were (excuse the mixed-food-metaphor) the ultimate cherry on top.
The jerk chicken was tender and seasoned perfectly, neither bland nor overly spicy. The warm and crunchy blue corn shells were a nice alternative to white flour soft shells, which are also available. The fresh mango salsa, its flavor bursting with a nice kick to it, took center stage as the best part of the dish and dimmed the lights on the chicken act.
At Frontier, it's hard not to lick the plate clean, whatever cuisine is represented on it. The menu is somewhat reasonably priced. Entrees range from $9-$25, the least expensive options being entree salads, sandwiches, and burgers, with steak and other meat entrees occupying the expensive end of the spectrum.
Anyone seeking to create as many combinations between the flavors of Europe, the Mediterranean, and Asia should cross over the Lewiston-Brunswick line to explore Frontier's impressive fusion of world cuisines.