Tensions are running as thick as oil on the Bates campus this week, as many students remain at odds with the Board of Trustees. Last Tuesday, January 21st, President Clayton Spencer released a statement outlining the Bates Administration's position on climate change and divestment of our endowment from the fossil fuel industry. Bates College prides itself on its commitment to environmental sustainability, but Spencer's bottom line is clear: Bates is not divesting. This came with a shock to the student body, and especially to environmental activist group BEAM (Bates Energy Action Movement).
Since the fall of 2012, BEAM members have pushed for the divestment of the Bates endowment from the top-200 companies in the fossil fuel industry, which includes oil, coal, and natural gas extraction and refinement. Senior Ben Breger, Co- President of BEAM, explains the issue, "Scientists agree that two degrees Celsius of warming is the uppermost level to maintain a stable climate. Consequently, two-thirds of proven fossil fuels reserves need to stay in the ground so we do not reach that limit. Fossil fuel companies are expanding their reserves everyday so the urgency to stop burning carbon is pressing, which is why we focus on this issue." By investing in fossil fuel companies, Breger argues, Bates is promoting their growth. The school currently holds 3-5 percent of the endowment in the fossil fuel industry.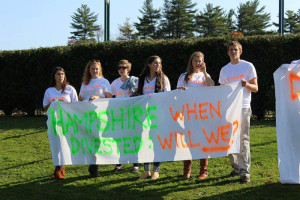 Last year alone, BEAM collected over 600 signatures for their divestment petition, not including 73 alumni signatures. Members worked in conjunction with the Board of Trustees and Administration in order to discuss a practical approach to divestment. Bates is not the only college focusing on endowment divestment. Over 300 colleges and universities across the country are joining this movement. So why are we maintaining the status quo?
Spencer articulates the thought process of the Board of Trustees in her statement. The portion of the endowment invested in fossil fuels is crucial to the diversification of Bates' investment portfolio. Hall Capital Partners, Bates' external endowment manager, strongly defends that the 3-5 percent endowment invested in fossil fuels is congruent with the school's financial goals of maintaining high returns within stable risk parameters.
"To guarantee divestment from these 200 public companies, our investment advisers estimate that between a third and a half of the entire endowment would need to be liquidated and replaced with separately managed accounts…the transition would result in significant transaction costs, a long-term decrease in the endowment's performance, an increase in the endowment's risk profile, and thus a loss in annual operating income for the college," Spencer said.
BEAM Co-President Bo Ra Kim '14 wrote a response blog post criticizing Bates' decision to maintain their current investment position. Disheartened, Kim writes, "The last blog post we wrote was filled with hope, and yet somehow we have landed here… BEAM is shocked by the sudden lack of transparency in this process, particularly after we worked so closely with the administration." Members of BEAM and of the Bates community are questioning the information used to back the Board's argument, stating that there was a lack of clarity in the decision process.
"We don't know who made the decision. We don't know if it was the entire trustees who voted, or was it an internal decision. We want to see numbers," Kim said.
President Spencer presented an additional argument stating that divestment from fossil fuels would constitute using the endowment for political ends. This could jeopardize our endowment, "and distort its function as a resource for our academic mission." This would include losses to financial aid, funds for academic programs, as well as faculty and staff salaries.
BEAM strongly opposed labeling divestment as a political measure. "If divestment is considered political, then wouldn't investment as well? "By investing in these companies, we are supporting their practices," said Junior BEAM member Jordan Becker. This would not be the first time Bates has altered their endowment investment out of political principle. In 1986, Bates divested five million dollars from South African companies during the Apartheid.
However, BEAM and divestment supporters are still looking ahead. In a BEAM meeting last Thursday, members discussed their next course of action. BEAM hopes to continue discussion with President Spencer and the Board of Trustees in order to examine different approaches to divestment. Co-Presidents Kim and Berger are looking to bring in a speaker who can educate the Board in addition to the Bates community about the costs and benefits of divestment from fossil fuels.
The campaign for divestment is far from over. At the end of her statement, President Spencer encourages students to engage in discussion and participate in the schools affairs. We can look forward to observing the evolution of this movement because as BEAM members said, "We are not going away. We are not letting it go."