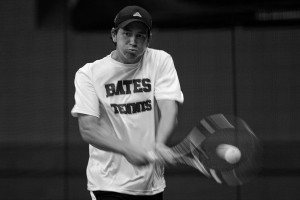 Senior All-American Rob Crampton returned from illness and helped Bates secure the victory this past Friday in Waltham, Mass against Brandeis. The 21st ranked 'Cats swept doubles play, eventually securing the 7-2 victory. With Crampton back, senior Matt Bettles returned to first doubles with Crampton, and junior Timmy Berg with sophomore Pierre Planche settled back into second doubles. In all, the match last five hours and 50 minutes.
To start off the day, Berg and Planche secured the victory at second doubles, defeating Krems and Siegel from Brandeis 8-4. Although this match was quick, the other two took considerably longer. First, with seniors Crampton and Bettles back at No.1, they took on Brandeis's Jordan and Milo, eventually winning 9-8 (7-5) marathon match, followed by junior Ben Bogard and sophomore Henry Lee winning at number three doubles in a 9-8 (7-4) nail-biter.
For singles, the Bobcats took four out of six matches. With Crampton and Milo testing their talents against each other in singles, Milo eventually bested Crampton in a two-set affair. The other notable match was the only three-setter of the day, when Bettles defeated Josh Jordan 7-6 (7-4), 3-6, 6-1.
Bates, 3-4 (0-1 NESCAC), Bates plays its second conference match March 19th against Colby at Merrill Gym followed by a trip to Johns Hopkins on the 23rd.